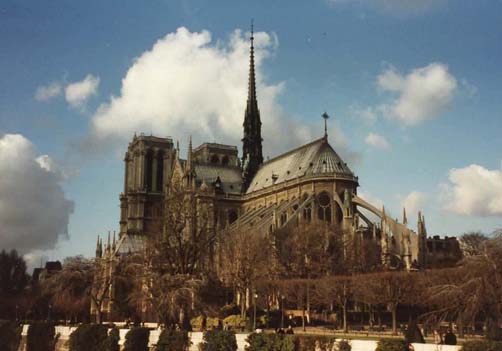 Notre Dame de Paris as we first experienced it together in 1991
As we watched live coverage of the Cathedral of Notre Dame de Paris in flames on April 15, 2019, memories overwhelmed us. It had been just three months since our most recent visit to the Cathedral, one tinged with grief amidst the joy bestowed by this Gothic masterpiece whose restoration in the 19th century sparked a new fashion in French furniture known as Gothic Revival (Néo-Gothique).
Thanks to the fascination of the general public with the huge renovation project undertaken on Notre Dame de Paris in the 19th century by Eugène Viollet-le-Duc and Jean-Baptiste Lassus, furniture designers embraced Gothic and crafted magnificent hand-carved pieces evoking the style of the Cathedral. So prized were these items that they were used by generations of families across France, with some extraordinary pieces finding their way to M. Markley Antiques.
Among prominent collectors in the 19th century was the writer, Victor Hugo, whose popular novel featuring the Cathedral's hunchbacked bell ringer is titled, simply, Notre Dame de Paris in French. Agitating for the preservation of medieval structures in France, Hugo acquired Gothic style furniture to fill his home while in exile on the island of Guernsey. Perhaps he felt as we do that Gothic style furniture in a home far from Paris binds us to Notre Dame de Paris and all that the Cathedral represents.
We adore the style as no other, owing to its origins in churches constructed in the 12th and 13th centuries to the glory of God in a burst of spiritual and civic awakening, incorporating a distinctive vocabulary of ornament (pointed arch, spire, tracery, rose windows, statuary, crocketing, column clusters). A visit to the Louvre or to the Cluny museums in Paris, with their collections of furniture from the Middle Ages, shows that artisans of that time were also inspired by architecture to create items evoking the magnificence of the monumental building projects. In turn, the items on display motivated their 19th century counterparts to create the Gothic Revival.
Although we do not visit Notre Dame on every trip to Paris, we made sure to spend time at an exhibit in the ambulatory during our trip in January of 2019. Less than two months before our visit, Andrew Tallon, Associate Professor of Art History at Vassar College, passed away at the age of 49. Andrew captured digital imagery of Notre Dame de Paris and published a book about the Cathedral in 2013 in French (with Dany Sandron). We applaud the publication in 2020 of its translation into English by Andrew's protegée, Lindsay Cook (Vassar Class of 2010). Our hope is that this book will help to maintain and to intensify interest within the Anglophone world for both the history and the future of Notre Dame de Paris.
Vassar College and its alumni mounted in 2014 an exhibit (to have been on view indefinitely) based on Andrew Tallon's research into the phases of the building's construction.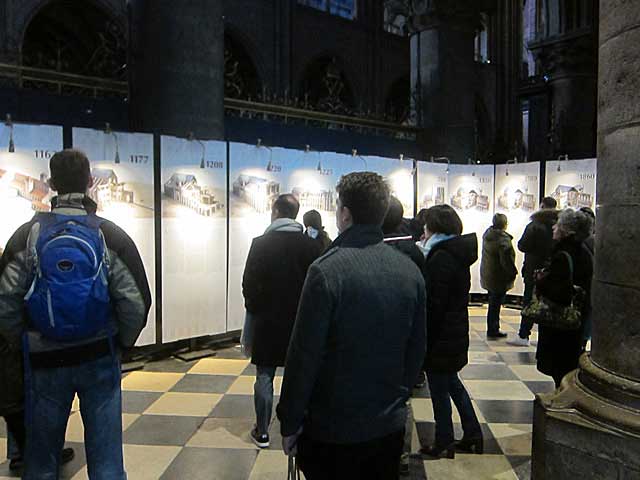 Vassar College Exhibit in the Ambulatory on January 7, 2019
During our visit, we were gratified to see how many people spent time viewing every panel of the exhibit. The drawings and the text in multiple languages surely enhanced the experience for many a visitor, as they did for us in spite of how many times we had been there before. We found it reassuring that the exhibit remained in this building Andrew loved, even though he would never visit again. While Andrew had accomplished much in terms of research about Gothic buildings such as Notre Dame de Paris, and captured invaluable digital information about their construction, so much remained to benefit from his attention. His efforts have resulted in bringing people to an appreciation of Gothic and a connection to the Christianity that inspired inhabitants alive at the time when the great cathedrals were built and through the centuries afterward. His life's work endures through items such as this exhibit and the pages on the Vassar College website. Its main photo never fails to evoke the awe we feel each time we walk down the nave of a towering Gothic cathedral, heads tilted back and gaze directed heavenward, mindful of the yearning, shared with all of humankind, to reach for ever greater material and spiritual heights.
Perhaps the Cathedral's rebuilding in the 21st century might trigger renewed appreciation for furniture – now treasured antiques in their own right – inspired by the 19th century project.
As we look around our home filled with 19th century Gothic furniture from France, that same spirit of Notre Dame de Paris is everywhere. It cements an indestructible bond with those who loved it deeply and have gone before us, including a brilliant young scholar named Andrew Tallon.
* * * * *
To learn more...
...about Andrew Tallon and to read some of his publications, visit his Vassar College website. We were fortunate to know Andrew as a result of an invitation to speak at Vassar in 2010 about our antiques business. In him we found a kindred spirit passionate about Gothic, including how the buildings impacted the people who entered them. Andrew's curiosity and research involved a fascination with the acoustics of cathedrals, including how they affected listeners and inspired composers to write music for singing in them.
...about Gothic buildings in France, visit the website Andrew helped to create, Mapping Gothic France. Andrew was featured in Building the Great Cathedrals broadcast in 2010 on the PBS series Nova and re-broadcast in the aftermath of the fire at Notre Dame de Paris.
...about Andrew Tallon's life and the origins of his interest in Notre Dame de Paris, visit Vassar Info and the Journal Sentinel.
...about Victor Hugo's fascination with Gothic Revival furniture, this wonderful book in English and in French has all the details -- Victor Hugo, Visions d'Intérieurs, du Meuble au Décor by Corinne Charles (Paris-Musées, Paris, 2003).
...about Andrew Tallon's legacy and the rebuilding in 21st Century Gothic by Lindsay Cook (Vassar Class of 2010) in the Wall Street Journal.
...about purchasing Lindsay Cook's translation into English of Notre Dame de Paris - Nine Centuries of History by Andrew Tallon and Dany Sandron, now available from on-line booksellers.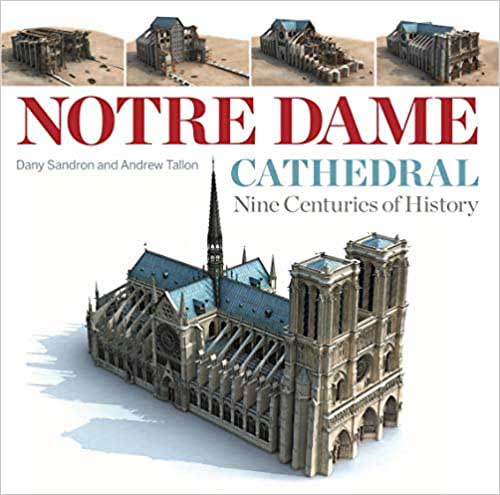 Notre Dame Cathedral by Dany Sandron & Andrew Tallon (trans. Lindsay Cook)
...about how Meril Markley's undergraduate experience at Vassar College inspired M. Markley Antiques.
...about pieces we have stocked and which are especially rich in elements evoking Notre Dame de Paris, see clock 4179, chair 4180A, cabinet 4190, cabinet 4194, table 5112, dining chairs 5116, hall tree 5178, bench 5177, chest 5150, armoire 5193, small table 5209, dressoir 9205, sideboard 9452, bench 5301, cabinet 5332C, and table 5160.
...about the connections between architectural style and faith we have been rereading Henry Adams' Mont Saint Michel and Chartres. His book includes fascinating details about the relationship of Notre Dame de Paris and Notre Dame de Chartres. He quotes often from the works of Viollet-le-Duc who wrote eloquently about Gothic architecture and furniture, its religious underpinnings, and the restoration of Notre Dame de Paris.
* * * * *
Perhaps Imre Steindl, architect of Hungary's Gothic Revival style parliament building, characterized it best. "By its perfect beauty and its elegant lines, this remarkable medieval style creates a bridge between the material and spiritual worlds."