Gothic and Renaissance | Antique Furniture from France
by M. Markley Antiques
| | |
| --- | --- |
| (1) 281.748.2266 | mmarkley@mmarkley.com |
Meril & Michael Markley, Owners of M. Markley Antiques (click on the photo to learn more)
| | |
| --- | --- |
| CABINETS AND ARMOIRES | CHAIRS, BENCHES, THRONES and BEDS |
| TABLES and DESKS | CHESTS, TRUNKS, HUMIDORS |
| MIRRORS | FIREPLACES, CLOCKS, RUGS, and DECOR |
| CERAMICS (BLOIS AND GIEN) | GOTHIC ITEMS ON ONE PAGE |
| GOTHIC REVIVAL FURNITURE, NOTRE DAME DE PARIS, AND ANDREW TALLON | RECENT ARRIVALS |
This week's featured item...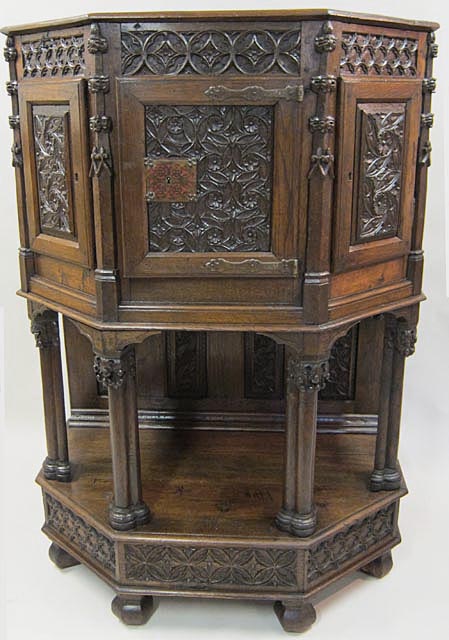 Click on photo to learn more
Item 5185 - Antique Gothic Style Cabinet in Oak
(France, circa 1870 - $3,975)
We ship to destinations all over the U.S. using various shipping companies who provide you with a binding quote in advance.
Antiques in need of repair or restoration?
We rely on Woodwork by George
Join us each quarter for this luncheon series at the crossroads of culture and commerce in Houston.
Our fall luncheon was held on October 10 at Etoile in Uptown Park and featured Antoine Plante, Music Director, Founder, and Conductor of Mercury Chamber Orchestra.
Although most furniture is sold to individuals, some of our pieces have had starring roles in the following:
| | |
| --- | --- |
| Reign, the TV Series about Mary, Queen of Scots | Red Riding Hood, the movie starring Amanda Seyfried |
| Boston Ballet's Production of Swan Lake | Chicago Lyric Opera's Production of Rusalka |
Meril Markley's articles on European travel in the Newsletters of the Wine Society of Texas (Greater Houston Chapter) have their own page where you can read or download and save them.
While researching French antique furniture we happened upon the story of the first modern corporations dating back to the 14th century in France. Click on the photo to learn more about these commercial pioneers and the corporate governance system that paved the way for free markets and entrpreneurs for the next 600 years. You can also download Meril's presentation from an international law conference in Rome, Italy sponsored by McGeorge School of Law.
| | |
| --- | --- |
| To visit our online tribute to Margaret Benjamin (Meril 's Mom), click on the photo. | To visit our online tribute to one of the great voices of the 20th century, Hilde Rössel-Majdan, click on the photo. |
| Click on the photo for more about how Vassar College inspired M. Markley Antiques | To visit our online tribute to Eugene A. Carroll, Professor Emeritus of Art History at Vassar College, click on the photo. |
| | |
Like the Paris antique dealers whose dogs are central to their business, we have had Mischa and Margaux, shown resting up after a busy day at M. Markley Antiques. Click the photo to learn more.
Brown. It's the new Green.
We have seen the news stories about how no one wants brown furniture anymore. But for anyone who cares about the environment – or what once was called conservation – selecting old brown of the antique variety is an elegant, principled choice. The carbon footprint of the old brown in our collection is teensy. It needs only diesel fuel for delivery to our customers, where it will thrive in whatever comfort zone it inhabits without the need to adjust a thermostat. No rain forest saplings were felled for constructing old brown. The wood is centuries old, solid, and the resulting furniture lacks particle board or OSB with off-gassing bonding agents. Holding together the elements of old brown are tongue-and-groove joinery, instead of nails or screws, and bio-degradable natural glues rather than synthetic adhesives. To be treasured most of all is the talent and ingenuity that went into fashioning old brown. Nineteenth century designers and artisans created it all by hand. While their names may be lost to history their output merits preservation. Old brown celebrates French craftsmen, with the confidence that they too would embrace... Brun. C'est le nouveau vert.
About French Gothic Revival Furniture
About French Renaissance Revival Furniture
Terms Governing all Sales and Arrangements for Delivery
M. Markley Antiques
Corporate Office of The Markley Group, Inc.
10903 Loggers Luck Place
The Woodlands, TX 77380
Copyright ©2019 The Markley Group, Inc.
All rights reserved.