Gothic and Renaissance | Antique Furniture from France
by M. Markley Antiques
| | |
| --- | --- |
| (1) 281.748.2266 | mmarkley@mmarkley.com |
Meril & Michael Markley, Owners of M. Markley Antiques
| | |
| --- | --- |
| CABINETS AND ARMOIRES | CHAIRS, BENCHES, THRONES and BEDS |
| TABLES and DESKS | CHESTS, TRUNKS, HUMIDORS |
| MIRRORS | FIREPLACES, CLOCKS, RUGS, and DECOR |
| CERAMICS (BLOIS AND GIEN) | GOTHIC ITEMS ON ONE PAGE |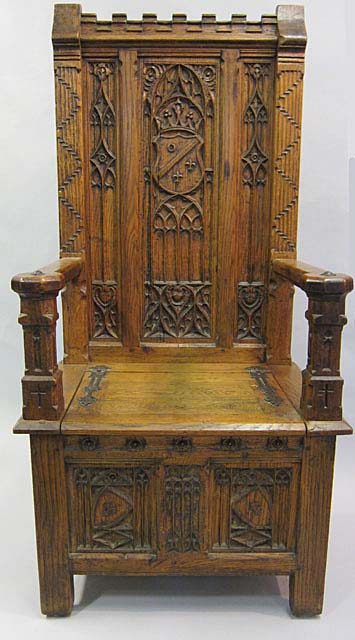 RECENT ARRIVALS
This week's featured item...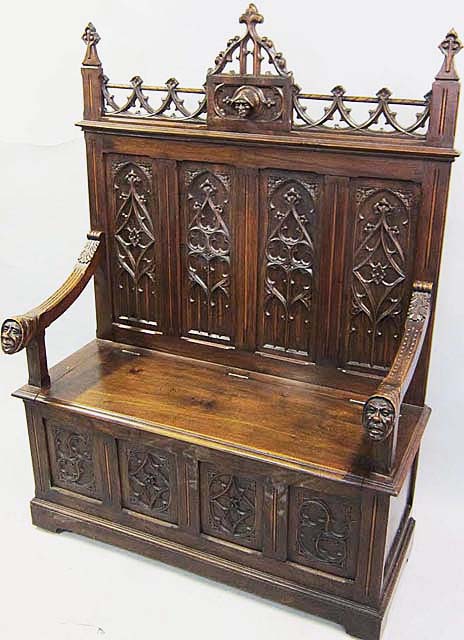 Click on photo to learn more
Item 5202 - Antique Bench Made from Walnut in Gothic Style
(France, circa 1890 - $4,180)
We ship to destinations all over the U.S. and use Plycon Transportation Group exclusively.
These pros blanket-wrap and seal everything at our warehouse, bring it to your location, and place it just where you want it.
Antiques in need of repair or restoration?
We rely on Woodwork by George
Join us each quarter for this luncheon series at the crossroads of culture and commerce in Houston.
Our most recent luncheon in Houston was on December 5, featuring Matt Register, Owner and Co-Host of Texas Business Radio, talking about Finding the Entrepreneur's Voice.
On September 19, we had our first luncheon in The Woodlands, featuring Andrew White of the Verreaux Collective (chamber music exclusively for The Woodlands).
Although most furniture is sold to individuals, some of our pieces have had starring roles in the following:
| | |
| --- | --- |
| Reign, the TV Series about Mary, Queen of Scots | Red Riding Hood, the movie starring Amanda Seyfried |
| Boston Ballet's Production of Swan Lake | Chicago Lyric Opera's Production of Rusalka |
Meril Markley's articles on European travel in the Newsletters of the Wine Society of Texas (Greater Houston Chapter) have their own page where you can download excerpts or the complete set. You can also download our Paris Guide for experiencing the City of Light -- whether for the first time or as a seasoned pro.
While researching French antique furniture we happened upon the story of the first modern corporations dating back to the 14th century in France. Click on the photo to learn more about these commercial pioneers and the corporate governance system that ensured their company's survival for 600 years. You can also download Meril's presentation from an international law conference in Rome, Italy sponsored by McGeorge School of Law.
| | |
| --- | --- |
| To visit our online tribute to Margaret Benjamin (Meril 's Mom), click on the photo. | To visit our online tribute to one of the great voices of the 20th century, Hilde Rössel-Majdan, click on the photo. |
| Click on the photo for more about how Vassar College inspired M. Markley Antiques | To visit our online tribute to Eugene A. Carroll, Professor Emeritus of Art History at Vassar College, click on the photo. |
| | |
Like the Paris antique dealers whose dogs are central to their business, we have had Mischa and Margaux, shown resting up after a busy day at M. Markley Antiques. Click the photo to learn more.
M. Markley Antiques is based in The Woodlands, Texas
Terms Governing all Sales and Arrangements for Delivery
Merry Christmas from the Markleys and Best Wishes for 2019
Copyright ©2018 The Markley Group, Inc.
All rights reserved.