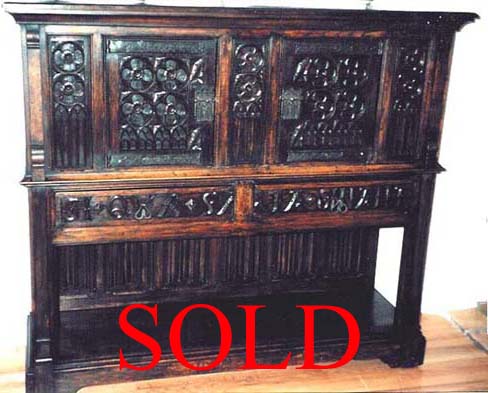 Item 9205 - Width 67, Height 59, Depth 20 (in inches)
Wood - Oak
Date - Circa 1850
Country of Origin - France
Additional photos below text
This solid oak dressoir dates from the 19th revival in France of interest in medieval architecture spurred by Eugène Emmanuel Viollet-le-Duc's restoration of the Cathedral of Notre Dame de Paris and of the fortress city of Carcassonne. Even the unusually dark color of the oak faithfully reproduces late 15th century pieces from the Auvergne region of central France.
A piece very similar to this one, and likely its Gothic-era inspiration, can be seen at the Château de la Rochelambert. Remarkably, a 15th century piece with a strikingly similar design came on the market in the fall of 2003 and was sold at auction in Paris.
The dressoir is a type of furniture with a particularly interesting history. Its origins have been traced to the 13th century when furniture capable of holding the owner's possessions was limited to chests. At that time, people wealthy enough to own multiple homes did not furnish each of them, but rather took their furniture with them to wherever they were residing. Chests were transported on wheeled platforms and the dressoir design arose from chests left on top of such platforms. By the 14th century, craftsmen cut doors into the sides of the chests in order to allow easy access at eye level. The chest evolved into an elevated case and the platform became a stationary, integrated part of the design. The shelf or pot-board below developed as a place to display riches in terms of metal plate and other valuable serving pieces.
The intricately carved tracery patterns, known as fenestrage, have their origins in the medieval stained glass windows of cathedrals built in the flamboyant gothic style. Architectural elements are also found in the metal, slide-bolt closures of the two doors.
The potboard acts as a display area, framed in the back by linen fold panels which are also repeated on the sides of the upper part. The two drawers bear an inscription in Latin, although our experts have not yet discerned its significance.
Like item 9204, it was most likely commissioned from a master ébeniste as a faithful copy of a 15th century piece on display at a chateau or museum. Both items 9204 and 9205 came to us from a French scholar's collection of and reverence for scrupulously accurate 19th century reproductions of medieval masterpieces.
Reference
Ader-Tajan, Collection Bruno Perrier Haute Epoque (Catalog for Sale at Auction on April 6, 1992 at the Hôtel Drouot, Paris); Boccador, Jacqueline, Le Mobilier Français du Moyen Age à la Renaissance (Editions d'Art Monelle Hayot, Saint-Just-en-Chaussée, 1988); Thirion, Jacques, Le Mobilier du Moyen Age et de la Renaissance en France (Editions Faton, Dijon, 1998); Viollet-le-Duc, Eugène, Le Mobilier Médiéval (Georges Bernage, editor) (Editions Heimdal, 2003)
Uses
In keeping with its 15th century all-purpose forebears, this piece is ideal for virtually any room in the house or in a business setting.