No Time Toulouse
Free Markets and the First Modern Corporation in 14th Century France
by Meril Markley, J.D., LL.M.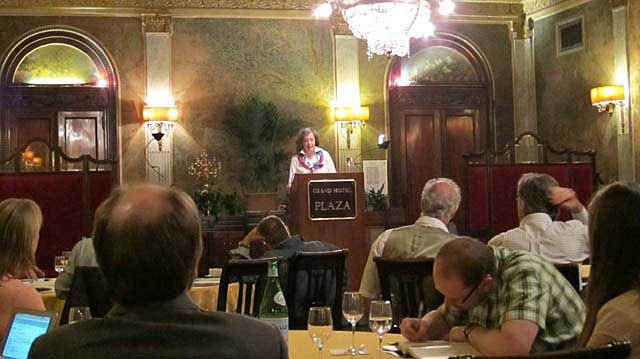 Meril Markley addressing the Pacific McGeorge International Law Conference in Rome
In the summer of 2004 while researching medieval furniture-making techniques for an article on this website, Meril Markley happened upon a footnote referencing a French treatise about technology in the 14th century deployed at water-driven mills owned by the first modern corporations. At the same time, she was preparing a speech to give at a conference on Business Ethics at Wilton Park (West Sussex, UK) on the role of the independent auditor in a post-Enron world. It was a eureka moment, as she discovered that the foundation of 14th century corporate governance adopted by the mill companies was the prevention of self-dealing of the type that led to Enron's collapse and the demise of its "independent" auditor.
She would have to wait several more months to get her hands on a copy of Aux Origines des Sociétés Anonymes -- Les Moulins de Toulouse au Moyen Age by Germain Sicard, the treatise published in 1953 and based on the original records of the mills dating back to the 13th century. Marveling at the entrepreneurial spirit of the shareholders and their practical approach to protecting their investment, Meril was convinced that their story needed to be told and that modern lawmakers and regulators could prevent the next catastrophic collapse by adopting the principles of these visionaries from an earlier epoch.
She has published several articles and given a number of speeches highlighting the accomplishments of these medieval pioneers. While academics have praised her for her research and corporate lawyers have found the mill companies' story compelling, little has changed in corporate governance to prevent the cataclysm the mill companies foresaw.
Meril delivered a presentation about the accomplishments of these companies at the Pacific McGeorge International Law 2012 Conference in Rome, Italy on May 26, 2012.