For Hilda Ysusi, the 27-year-old chef and owner of Broken Barrel, inspiration emanates from preceding generations of cooks in her family, Julio and Julia, coupled with her own years of training and travels.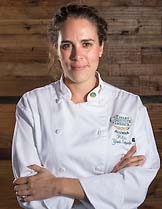 The restaurant's name pays tribute to a broken barrel, always overflowing with flowers, outside her grandmother's home in Mexico. Yes, it was cracked. But her grandmother, Julia, preferred it that way. For Hilda it epitomized, on each visit, the love of her grandmother and the promise of a remarkable meal destined to emerge from the kitchen. Spurred by some of Julia's fascinating dishes, Hilda has created a unique and eclectic menu for her own Broken Barrel.
Born and raised in Mexico City, Hilda's earliest memories are as a budding sous chef for her father (and Julia's son), Julio, in the family kitchen that was ground zero for weekend culinary adventures. Like his mother, Julio lived by the French imperative of going to the market, choosing the freshest ingredients, and developing dishes based on the offerings of the day. Not wedded to cookbooks or recipes, Julio improvised and excelled. Hilda speculates that her father may have aspired to be a chef, but in line with expectations for a male of his generation, he pursued a more traditional profession and became one of Mexico's most renowned tax experts while never giving up on cooking.
Hilda, on the other hand, can't remember a time when she didn't want to be a chef. As a teenager, she went off to boarding school in Switzerland, learning about cooking and pastry at a Cordon Bleu-sanctioned institute and honing her skills before enrolling in the prestigious Culinary Institute of America in Hyde Park, New York. While at the CIA, she earned degrees in both Baking and Pastry Arts as well as Culinary Arts before heading off to work in restaurants whose cuisines ranged from traditional American to sushi.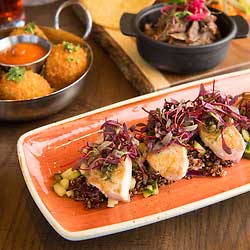 In addition to training as a chef, Hilda qualified as a Level One sommelier and has relished creating a large and diverse wine list for Broken Barrel including a number of choices by-the-glass. She even has one Texas wine on offer, Pleasant Hill's Sangiovese 2014, but has embarked on a quest for more.
The adventuresome approach to cooking, absorbed at her father's side, meant that even vacations were turned into culinary quests. While paragliding over the lush green highlands of Colombia she spied a coffee plantation and asked her instructor if they might visit. As it turned out, he knew the owners and asked them if he could bring Hilda for a tour.
Located far from the nearest town and not accustomed to visitors, the plantation owners spent the balance of the day showing Hilda the groves of coffee shrubs and trees, along with their organic farming methods, culminating in a crash course in how to roast superior coffee. Marshaling the bounty from their farm, they improvised a feast of locally grown meats and vegetables topped off by some of the best coffee Hilda had ever tasted. The experience informs the spirit of Broken Barrel – impromptu, informal, and chock-full of unforeseen delights.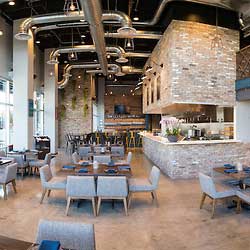 On setting foot in Broken Barrel one senses Hilda's desire for an eatery evoking the atmosphere of her family's home where food and wine were shared in a comfortable ambiance of friends and family, complemented by the aromas and sounds of the kitchen. The design is contemporary and open, with the kitchen visible behind a low brick wall. The high ceiling, and the tall windows opening out onto Lake Woodlands, create a haven for lingering over wine while sharing plates of delectable food, whether at the spacious bar, in the dining room, or on the patio.
My husband, Michael, and I first encountered Broken Barrel on Valentine's Day, before the official opening, when a prix fixe menu was on offer. The starter was a salad of charred sweet corn (esquites) with an avocado mayonnaise and a dusting of chili powder. The second course included Japanese fried chicken, made from dark meat with the lightest of zesty breadings blended with Asian spices. The seared scallops, with lemon orzo and orange beurre blanc, were sweetish, succulent, and perfectly cooked. As the main course, Michael opted for duck confit with roasted potatoes, one of his favorite dishes and his litmus test for a great restaurant. Hilda's interpretation of this French country staple did not disappoint. The duck skin was crispy, the flesh tender and flavorful, the twice-cooked potatoes conjuring spud perfection. There was no doubt of Hilda's culinary chops. Although seldom a lamb-eater, I was intrigued by the description of homemade cocoa pasta and lamb ragu with citrus mascarpone. The blend of flavors was subtle and satisfying. Accompanied by an Argentine Malbec from Maal Wines called Biutiful (yes, that's the correct spelling), the meal proved the perfect romantic repast, complete with a vista overlooking the lake as the sun was setting.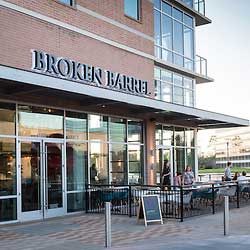 We have returned since then, including with friends Julie and Dave, to enjoy sharing the small plates: crispy olives with garlic lemon aioli, the grilled octopus with carrot hummus, chorizo oil, and charred cherry tomatoes, the pulled duck tostadas and, our new favorite dish, the baby beets with orange, labneh (Lebanese style yogurt), and crackling dust. Most memorable of all was joining Hilda and her family for the grand opening, with Julio and 94-year-old Julia in attendance, cheering on this gifted chef embodying the next generation of a family's passion for food.
The original version of this article appeared in the Spring, 2017 edition of the Quarterly Newsletter of the Wine Society of Texas, a non-profit organization dedicated to wine education and appreciation. We are saddened to report that the restaurant was a casualty of Covid and closed in the summer of 2020.