We have known Julie Wende and admired her for far longer than we may want to admit, dating back to when we all lived in Southern California. Julie's creativity and talent always stood out, in a time before the Internet and its worldwide reach were a reality. Fast forward to the present when our website can help to showcase Julie's accomplishments. We especiallly like that her art looks beautiful with our 19th century French antiques in the Gothic and Renaissance styles, embodying the intimacy and contemplation that they all evoke.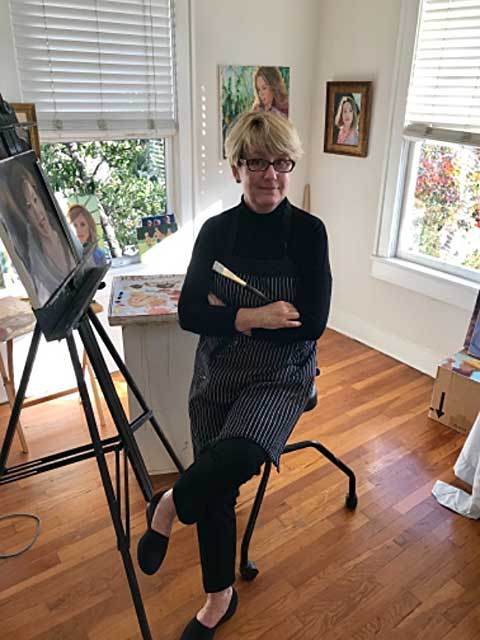 "...painting for me is like wading into a fast moving stream... the water was there before me and will be there long after I have gone ashore. It's life force calls me and takes me places I need to go to. The coursing waters nourish, and challenge, and can be turbulent, but I'm hooked!"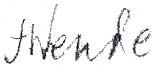 Scroll down to see some examples of Julie's paintings. The following portrait of our mutual friend, Curt Lambert, shown in costume for his starring role as Wildeye in the upcoming film Promise, remains a favorite.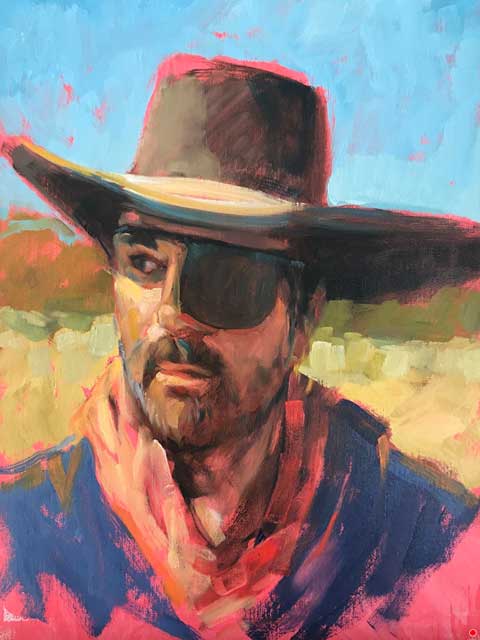 Julie has a background in animation, as an illustrator, and as the author of several publications. Her works reflect her love of portraiture and of telling a story in a style suggestive of Impressionism while also reminiscent of Edward Hopper, Winslow Homer, or Fairfield Porter. She works in various media including gouache and watercolor as well as oils.
In addition to commissions, she regularly shows her works at shows and galleries in Texas and beyond, including as a finalist in the American Impressionist Society's Annual Show in St. George, Utah (October, 2020). Details are available on her website.