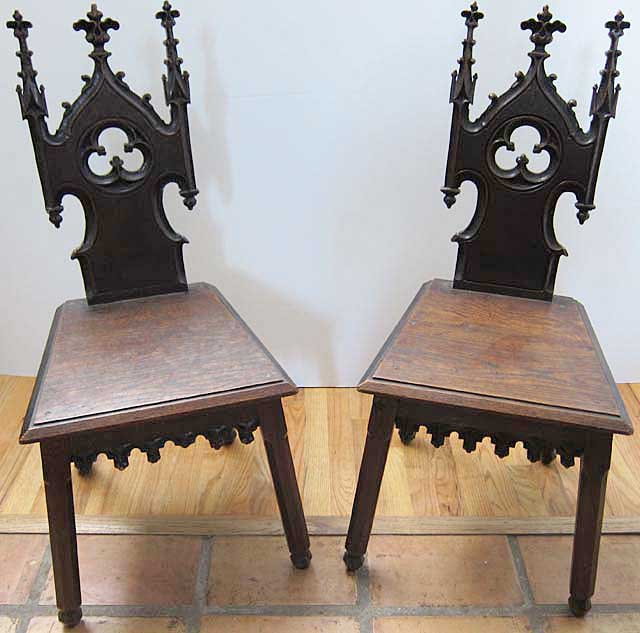 Price $1,595
Item 5166 - Width 17, Height 38, Depth 15 (in inches)
Wood - Oak
Date - Circa 1910
Country of Origin - France
Additional photos below
This pair of oak chairs is unlike any other French antique chairs in the Gothic style that we have seen, at least in terms of their overall design. Although they could be used as dining chairs, we do not believe that they were made for that purpose. Rather, they were crafted to be admired for their emphatic expression of uplifting Gothic style with roots firmly planted in the realm of medieval architecture.
The focus of Gothic elements found on these chairs is their backrests. Instead of the more common design of carved tracery or fenestrage enclosed within a rectangular frame (see Armchair 4190, below), the backs of these chairs are themselves unique Gothic shapes.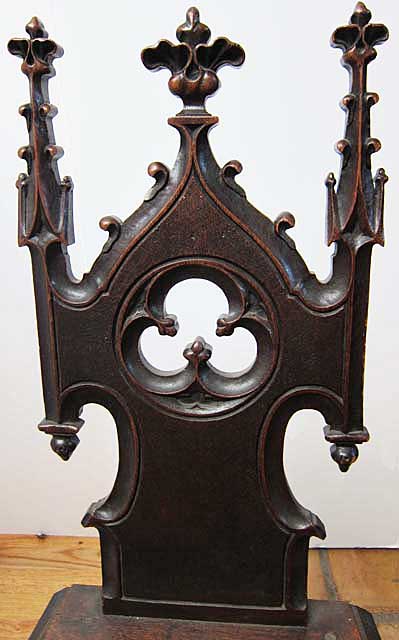 The upper part is an ogee arch. Its sides curve gently upward to its central point where an extended finial in the form of a fleur-de-lys anchors this chair firmly in the Flamboyant Gothic style. Ornamenting the sides of the arch is crocketing or stylized, hook-shaped bits of acanthus leaf as was used to decorate spires of Gothic cathedrals.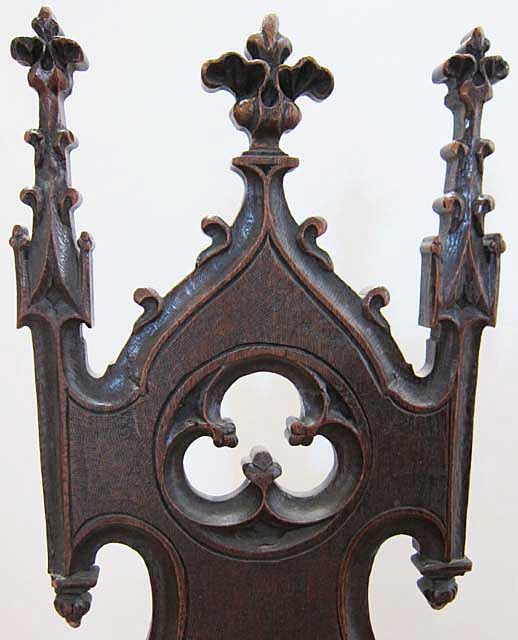 The carving of the central finial is extraordinary, translating the durable and solid nature of the oak into a figure that seems weightless and floating, as the petals of a blossom. (We note the ongoing controversy about whether the decorative fleur-de-lys is derived from a lily or an iris, but in this case the iris wins).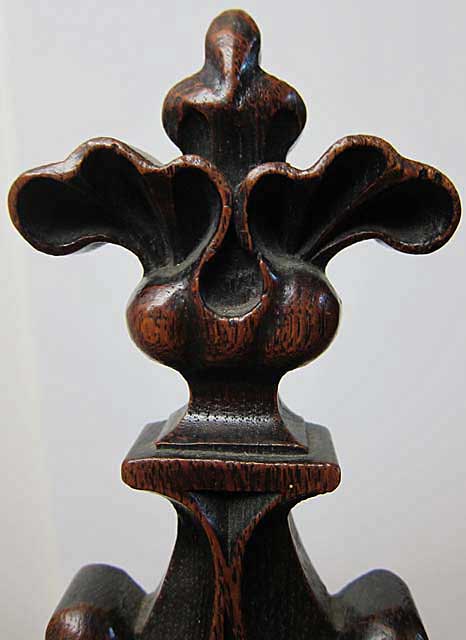 The spires on either side of the central arch are a triumph of Gothic design. Inspired by architecture, such as the flèche formerly atop Notre Dame de Paris, the spires are tall and thin with crocketing ornaments. The spires taper and narrow in their upward thrust, terminating in fleurs-de-lys that are slightly smaller versions of the central finial yet fulfill a unifying role.

If there is another unifying element of these chairs, it is the trefoil or three-lobed design used in Gothic tracery as seen in both architecture and furniture. On these chairs, we see two distinct interpretations of the trefoil. The most apparent is the large open trefoil on the intricately stippled center portion of the backrest. Enclosed within a circle, the open trefoil has three equal, rounded segments separated by cusps extending toward the center.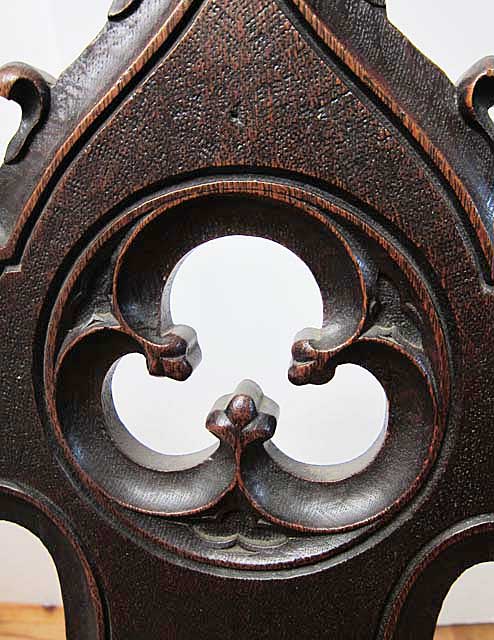 Where the outer parts of the lobes intersect, there is another type of trefoil that is only barely visible. It has pointed rather than rounded ends.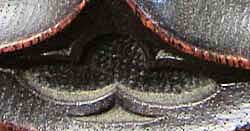 The following line-drawings, from a 19th century treatise on decorative elements, illustrate the trefoil in its rounded and pointed versions as used in architecture and furniture.

Where the cusps within the circular or open trefoil terminate there is a stylized three-lobed form, having its roots in a fleur-de-lys with three petals or in the top of a cross formed of intersecting ermine tails (for more about the latter and its significance for the region of Brittany, see Cabinet 3091).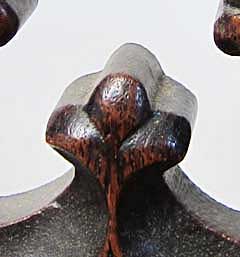 Lacking any other reason to link these chairs to Brittany, where pure Gothic design was far less common in the 19th century revival than in neighboring Normandy and farther east, we conclude that in this instance the small ornament with the three lobes is a stylized version of a fleur-de-lys. It unites in design and theme with the finials atop these chairs.
Forming the border below the seats of these chairs is the inverted version of this same ornament.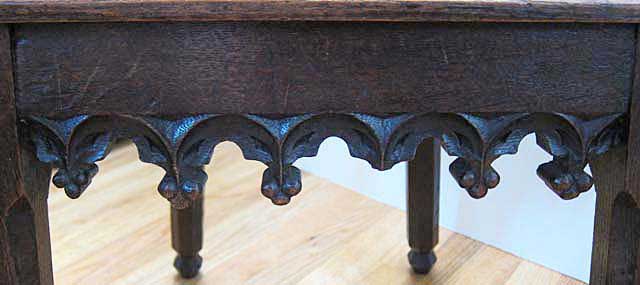 We found a similar motif used as a border around the seats of chairs, part of a larger ensemble of furniture (Dining Chairs 4190), that we sold several years ago. It was made of oak by Camille Albert in the coastal town of Fécamp in Normandy. Interestingly, each of the armchairs from the set has three finials at the top and a backrest in the Flamboyant Gothic style as well as an elaborate tracery design within a rectangular panel (as seen more commonly in the 19th century than the shape of backrest of Chairs 5166).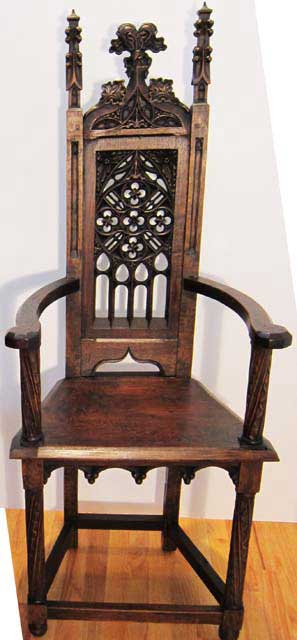 While the ornamentation around the seats is similar, it lacks the tiny trefoil between the curves and which further emphasizes the pervasive Gothic flavor of Chairs 5166.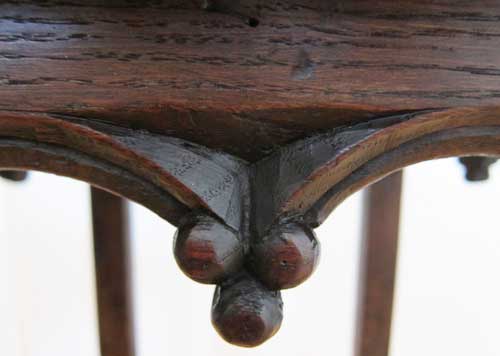 Detail of seat on Armchair 4190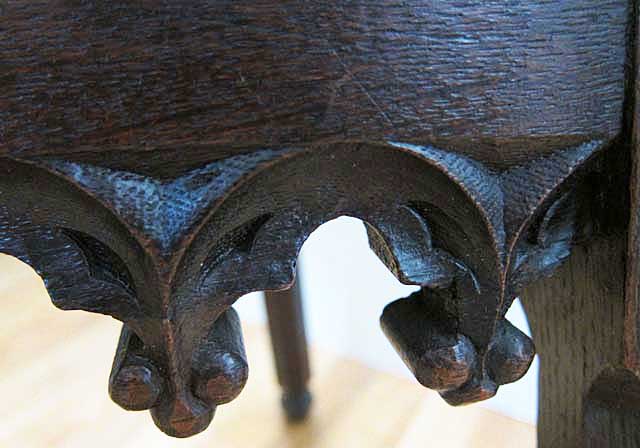 Detail of seat on Chair 5166
The seats of our pair of chairs are trapezoidal in shape and fastened to the frame with screws. Typically we would expect a decorative pillow to be placed on the seat and anchored to the back with ties, such that the screws on the seats would not be visible.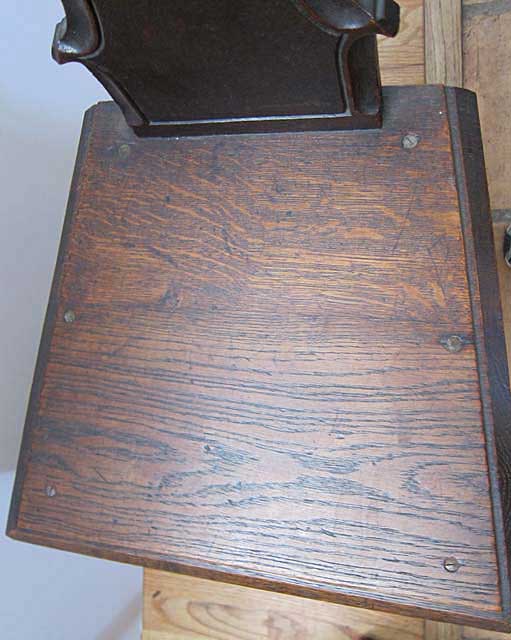 Although the legs of the chairs are not connected by stretchers, the chairs are sturdy and can be sat upon even though they were likely designed with loads in mind based on smaller bodies and lower weights typical of the inhabitants of 19th century France.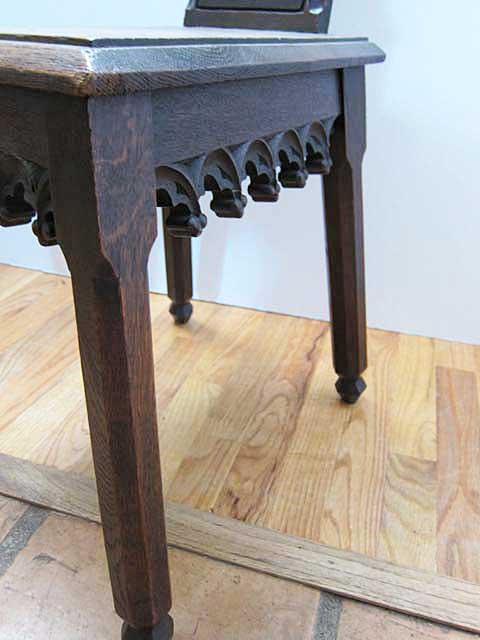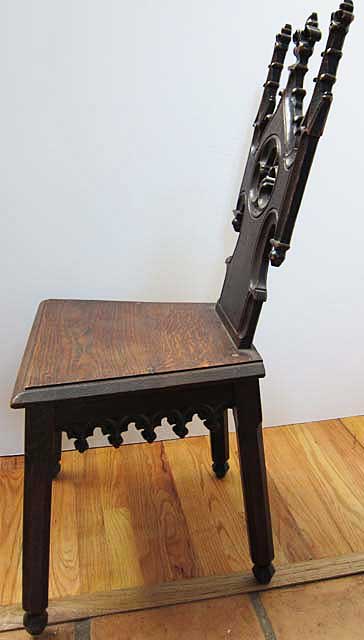 Although it requires a virtual hop across the pond from the Normandy coast where these chairs may have been made, in some ways they remind us of the famous set of eight chairs designed in 1755 by an Englishman, Horace Walpole (1717-1797). According to Clive Wainwright, in The Romantic Interior, these chairs were perhaps the first whose backs were based on Gothic window tracery.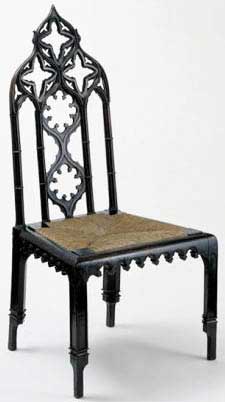 Walpole installed them at Strawberry Hill, his London estate filled with Gothic Revival items as described by Wainwright in his book and in an exhibit we enjoyed at the Victoria and Albert Museum in 2010. A son of Britain's first prime minister, Sir Robert Walpole, young Horace traveled extensively in France and presumably visited many a Gothic cathedral. He undertook his journey at a time when tourism involved "roughing it" on a scale modern travelers cannot imagine, including having his pet spaniel snatched by a wolf while on an expedition in the Alps. After returning home, he penned The Castle of Otranto, a novel that inaugurated the Gothic genre in literature and remains popular to this day.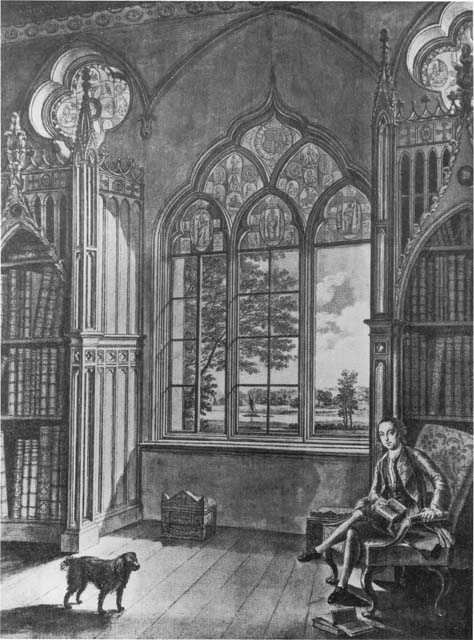 Horace Walpole in his Library at Strawberry Hill
Walpole's creation and collection of items predates the Gothic Revival in France by almost a century. The chairs — dispersed since 1842 among several collections — reflect his knowledge of and reverence for the classic elements of open tracery. They also employ a structure of the base with four legs unconnected by a stretcher, a design similar to our chairs.
His chairs reflect highly refined designs of a more delicate character than found in their later French counterparts. We have always suspected that the more robust and weighty feel of French Gothic Revival reflects a closer connection to architecture and the French government's programs implemented to protect and preserve Gothic buildings such as Notre Dame de Paris. As French fashion often reflects a reaction to a previous style, the more massive nature of French Gothic furniture, made of solid oak, represents a sharp contrast with 19th century styles characterized by veneers, delicate curves, and daintier elements.
The shape of the seat and legs of Walpole's chair is much closer to that of our chairs, especially the decorative frieze around the seat using the same type of ornament as on ours.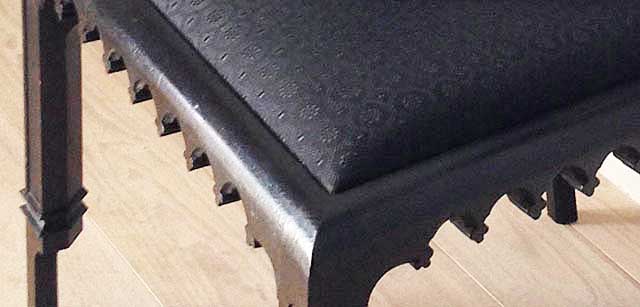 And so, we close this description as we started it, in awe of the uniqueness of Gothic Revival design in its many interpretations and the tastes of those who collected.
Reference
Aldrich, Megan, Gothic Revival (Phaidon Press, London, 1994); Boccador, Jacqueline, Le Mobilier Français du Moyen Age à la Renaissance (Editions d'Art Monelle Hayot, Saint-Just-en-Chaussée, 1988); Sandron, Dany and Andrew Tallon, Notre Dame Cathedral - Nine Centuries of History (Translation into English by Lindsay Cook and Andrew Tallon of 2013 edition, Pennsylvania State University Press, 2020); Robb, Graham, The Discovery of France — A Historical Geography, W.W. Norton (New York, 2008); Thirion, Jacques, Le Mobilier du Moyen Age et de la Renaissance en France (Editions Faton, Dijon, 1998); Viollet-le-Duc, Eugène, Le Mobilier Médiéval (Georges Bernage, editor) (Editions Heimdal, 2003) ; Victoria & Albert Museum, Horace Walpole and Strawberry Hill (March 6-July 10, 2010); Wainwright, Clive, The Romantic Interior (Yale University Press, New Haven, 1989).
Uses
Given their unique design, these chairs could be showcased as stand-alone items in an entryway or alcove. They could also be placed on either side of Gothic items such as Chest 5150 or such as Table 5160. They would be perfect for settling in and enjoying a re-reading of Walpole's classic, The Castle of Otranto, in harmony with the author's passion for all things Gothic.