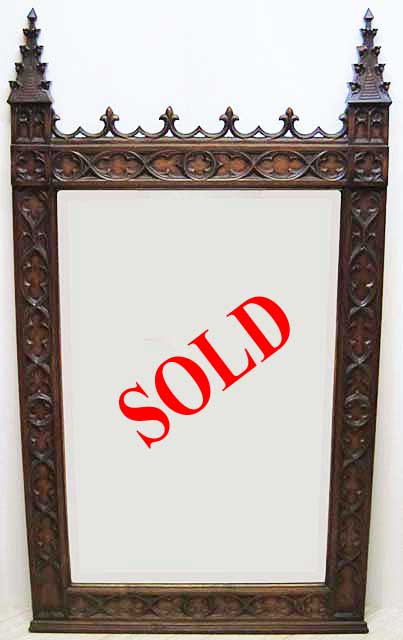 Item 5133 - Width 31, Height 57(in inches)
Wood - Oak
Date - Circa 1900
Country of Origin - France
Additional photos below text
Mirrors in the Gothic style are not easy to find, especially with their mirrored glass intact after more than 100 years of use and enjoyment. With mirrors, we always enjoy imagining the people who primped in front of them, perhaps on the way to a wedding or to another of life's rites of passage. More than mere items of furniture, mirrors would have such intriguing tales to tell — if only they could talk.
Whoever designed the frame of this mirror was thoroughly conversant with the language of Gothic design. For example, fenestrage or tracery is used to ornament the vertical and horizontal members. With an overall focus on elliptical shapes to frame other elements such as quatrefoils, circles, and six-sided figures there is a pleasing repetition of alternating elements. The quatrefoil inside of a circle, that acts as the centralizing element of the top, anchors the intersections of horizontal and vertical pieces of the frame.
With a nod to Gothic architecture, a lancet arch forms ornaments on either side of the bottom of the mirror at the intersection with the side pieces. A variation of the lancet arch, in the form of pointed arch with a circle on the top, frames the railing of undulating figures crowned by stylized fleurs-de-lys.
Capping each side is a finial, seemigly plucked from atop a Gothic building complete with ornamentation in the form of intricate crocketing. The rooftop feel is enhanced by a triangle of incised carving of horizontal lines as if they were the overlapping slates providing a weatherproof interior for a Gothic cathedral.
he years have been kind to this mirror with only a bit of the silvering affected at the bottom left, as shown in the photo below. The oak frame has a rich patina allowing the grain of the oak to shine through, especially in the central portions of the tracery. This mirror promises many more decades of reflections.
Reference
Boccador, Jacqueline, Le Mobilier Français du Moyen Age à la Renaissance (Editions d'Art Monelle Hayot, Saint-Just-en-Chaussée, 1988); Thirion, Jacques, Le Mobilier du Moyen Age et de la Renaissance en France (Editions Faton, Dijon, 1998); Viollet-le-Duc, Eugène, Le Mobilier Médiéval (Georges Bernage, editor) (Editions Heimdal, 2003)
Uses
This mirror is ideal for an entryway, above a small table such as 5122 or chest 4158, complemented by Gothic caquetoires, 5188.