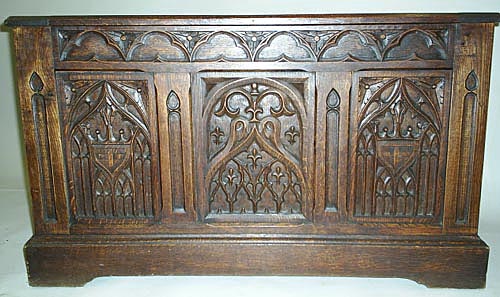 Price $1,667
Item 4158 - Width 40; Height 24¼; Depth 14½ (in inches)
Wood - Oak
Date - Circa 1900
Country of Origin - France
Additional photos below text
Chests played a meaningful role in the middle ages and before as portable holders (sometimes lockable) for valuable textiles, utensils or other treasured items. As furniture evolved, these chests were placed on tables or elevated surfaces for either display or for convenience. This configuration eventually evolved into taller cabinets like china cabinets or buffets, especially what the French call the bahut deux corps, which is one smaller chest on top of another slightly larger one.
This chest, in excellent condition, and probably dating to around the end of the 19th century or early 20th, is an excellent example of how Gothic elements were incorporated into all types of furniture during the Gothic revival of the late 19th century. The base is a solid plinth that supports the front and side panels. Each front panel is surrounded by solid oak stiles carved with Gothic lancets topped with the distinct Gothic pointed arch. The center front panel has a rounded top which incorporates curved volutes and foliage. Beautifully carved fleur- de-lis are placed in this panel among the carved tracery that reminds one of cathedral windows. The two side panels also display similar tracery and add a stylized blason or coat of arms in the centre of each pointed arch panel.
Directly under the top, there is repeating Gothic window-like carving with a stylized flower carved into the triangular spacing at the top of each space. The side panels are in the design of the classic Gothic linenfold panel (plis-de-serviette), and well executed. The chest is in outstanding condition, no missing parts, damaged wood, splits or hardware. It has been cleaned and paste waxed using the French paste wax, Pâte Dugay, and is available to bring its essence of solidity and medieval style to your home.
Reference
Boccador, Jacqueline, Le Mobilier Français du Moyen Age à la Renaissance (Editions d'Art Monelle Hayot, Saint-Just-en-Chaussée, 1988); Etude Tajan, Haute Epoque (Catalogue for Sale at Auction on September 24, 2003 at the Hôtel Drouot, Paris); Thirion, Jacques, Le Mobilier du Moyen Age et de la Renaissance en France (Editions Faton, Dijon, 1998)
Uses
Chests make excellent low table in front of sofas, with the addition of a glass top; placed in a hall or the appropriate size space with an appropriate Savonarola chair or caquetoire on each end, or merely by itself with perhaps a tall candle on either end, it will set a distinct tone and style to any setting.