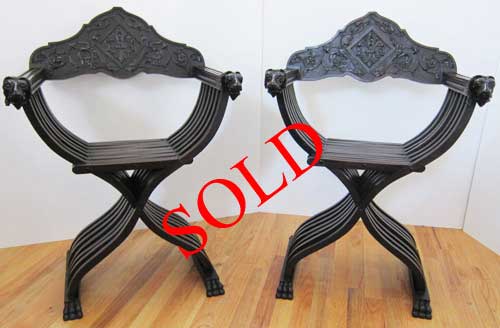 Item 4187 - Width 25½, Height 37, Depth 21 (in inches)
Wood - Walnut
Date - Circa 1890
Country of Origin - France
Additional photos below text
Although having strong connections to France and seen regularly in the country during the Renaissance, the Savonarola Chair is a distinctly Italian creature that has captivated us ever since we were teenagers. We take pains to keep several pairs in stock at all times but they have become increasingly difficult to find — especially ones like these — intricately carved and sturdy.
These chairs are slightly wider than others we have had and, owing to the seven ribs rather than six, are more sturdy and can be folded (after removal of the back or crest rail).
We find this set of Savonarola Chairs remarkable for two reasons — one is the crest rail incorporating a fleur-de-lys and dolphins, while the other is the lions' heads at the front of the armrests. The fleur-de-lys as symbol of Florence, ruled by the Medici Family, is discussed in the description of Savonarola Chair 4116. Curiously, that chair and these also include dolphins, the symbol of the rival Florentine family, the Pazzi.
The lions, as depicted on these chairs, are unlike any we have seen. Sleekly stylized with mane swept back, they gaze out at the viewer with half-closed eyes. They embody a languorousness, a lassitude befitting the king of beasts about to nap after a lunch provided by his queens. Sadly, their long ears cascading downward, have not survived completely intact but add to their character and uniqueness.
Reference
Antiquités et Objets D'Art 10, Le Mobilier Italien (Editions Fabri, Paris, 1990); Costantino Fioratti, Helen, Il Mobile Italiano (Giunti Editore, Firenze-Milano, 2004); Rousseau, Francis, Le Grand Livre des Meubles (Copyright Studio, Paris, 1999)
Uses
These chairs are ideal for an entryway or foyer, on either side of a table such as Item 9210, or Item 9440 (with lions' heads).