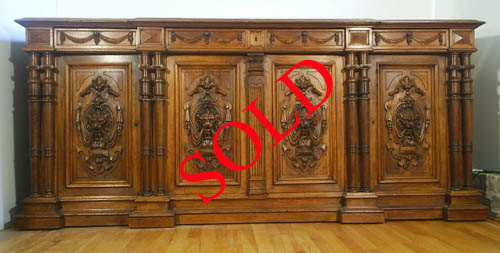 Item 9440 - Width 90, Height 40, Depth 25 (in inches)
Wood - Walnut
Date - Circa 1890
Country of Origin - France
Additional photos below text
This massive, four-door buffet cabinet or enfilade, is hand-carved of solid French walnut. A classic buffet or sideboard, it encompasses characteristic design elements such as the lions heads associated with the Henri II style, a 19th century revival of the Renaissance stylistic elements of 16th century France.
The elaborate carving of the lions' heads, encased in rectangular panels or cartouches carved to look like shields, bears witness to the influence of Jacques Androuet du Cerceau whose designs incorporated such figures as well as extensive use of armorial and architectural motifs.
Above each door is a drawer exhibiting trompe-l'oeil drapery held aloft by a central badge which doubles as the drawer pull. The drapery is also a unifying element, seen in each of the door panels where it appears to be threaded through the lion's mouth. Fondness for such a motif can be traced directly to engravings and prints from earlier centuries, particularly the ones memorializing designs of Rosso Fiorentino from the Galerie François I at the Château de Fontainebleau. For example, in the stuccoes surrounding the Filial Piety fresco, the lion with the swag of drapery in its mouth takes pride of place.
Rich decoration and complexity of style coupled with the warm, blonde tones of the walnut, make this massive piece an exquisite example of French craftsmanship.
While it appears that this cabinet had a separable upper section at the time it was made in the 19th century, it works well without it in a 21st century setting. The top of the cabinet has fifteen tiny plugs, each about the size of a penny, where walnut of the same grain and color has been used to fill the spots where the pper cabinet would have joined this piece. Five of the plugs are across the back and the remainder are near the sides so that the middle section is clear. Whoever executed this modification did so artfully and fully in keeping with the overall look of the piece so that it could stand alone as a triumph of Renaissance design.
Reference
Ader-Tajan, Collection Bruno Perrier Haute Epoque (Catalog for Sale at Auction on April 6, 1992 at the Hôtel Drouot, Paris); Boccador, Jacqueline, Le Mobilier Français du Moyen Age à la Renaissance (Editions d'Art Monelle Hayot, Saint-Just-en-Chaussée, 1988); Bos, Agnès, Mobilier du Moyen Age et de la Renaissance — La Collection du Musée du Louvre (Editions du Musée du Louvre/Somogy, Paris, 2019); Carroll, Eugene A., Rosso Fiorentino, Drawings, Prints, and Decorative Arts (National Gallery of Art, Washington, D.C., 1987); Carroll, Eugene A., Rosso Fiorentino — Paintings, Drawings, Prints, and Architecture, (On line from Vassar College, Poughkeepsie, 2016); Thirion, Jacques, Le Mobilier du Moyen Age et de la Renaissance en France (Editions Faton, Dijon, 1998)
Uses
Ideal as a sideboard for the dining room or kitchen, the buffet could also serve as a credenza in an office or library.