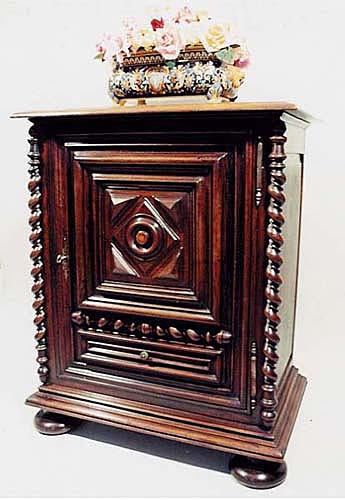 Price $2,295
Item 1036 - Width 35, Height 42, Depth 21 (in inches)
Wood - Walnut
Date - Circa 1800
Country of Origin - France
Additional photos below text
This small cabinet most likely dates from the late 18th or early 19th century owing to the quality of the French walnut and to its solid construction. The vertical torsades (also known as "barley twists") on either side and the horizontal one between the door and drawer panels are characteristic of the Louis XIII style. Use of the concentric patterns of squares and circles on the door, along with the light-colored marquetry in the shape of a star in the center of the circles, make it likely that this piece was made in central or southwestern France (most likely the lower Auvergne or Bordeaux region). Also typical of the regional style are the wide bun feet supporting the front of the cabinet.
This piece of furniture is called a confiturier or a specialized cabinet for storing the jams and preserves made by the lady of the house from the fruits of her garden. As is not uncommon for confituriers, the separate door and drawer are trompe l'œil and in reality there is only one large door opening into an interior space with shelves; there is no drawer.
For other Louis XIII style pieces featuring torsades, see small cabinet 9230, desk 9280, and table 9310.
Reference
Oliver, Lucile, Reconnaître les Styles Régionaux (Editions Massin, Paris, Undated)
Uses
This cabinet can be used in virtually any room and blends pleasingly with other furniture styles.