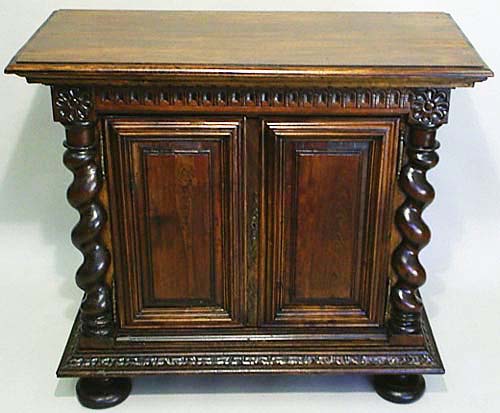 Price $2,295
Item 9230 - Width 40, Height 37½, Depth 18¼ (in inches)
Wood - Walnut
Date - Circa 1870
Country of Origin - France
Additional photos below text
Known as a meuble d'appui or "support piece," it is likely that this compact, antique cabinet is the product of a "divorce" - the upper part of a two-piece cabinet from which the upper and lower parts were transformed into separate pieces of furniture. This formerly upper part, with bun feet and moulding added now stands on its own.
When we bought the piece, we suspected a divorce but only when it arrived from France and we examined it more closely could we confirm it. In the process, we discovered that it was much older than we had initially expected. Judging by the workmanship, the marks of hand tools and carving, we believe it was made in the 17th or early 18th century rather than being part of the 19th century revival of the Louis XIII style. It resembles the narrower or top portion of the typical meuble deux-corps or two-piece cabinet from the Lyon area.
Characteristic of such cabinets are rectilinear design with a minimum of ornament save for the upper corners, typically decorated with a carved face or stylized flower. Such cabinets were made of walnut whose rich, fine grain was best displayed with a minimum of carving. Unlike the typical example from the Lyon region, however, this cabinet has torsades or twisted columns on each side, typical of the Louis XIII style, rather than the typical unornamented columns or pilasters. A related, but more elaborate example of a two-piece cabinet still intact, with torsades, can be found at the Château de Bonneval at Couusac-Bonneval in the Haute Vienne region of France.
The most representative color, given the challenges of photographing dark furniture, is in the image at the top of this page.
Reference
Boussel, Patrice, Les Styles du Moyen Age à Louis XIV (Baschet et Cie, Paris, 1979); Mannoni, Edith, Mobilier Lyonnais (Editions Massin, Paris, 1995); Quette, Anne-Marie, Le Mobilier Français Louis XIII et Louis XIV (Editions Massin, Paris, 1996); Un Temps d'Exubérance, Les Arts Décoratifs sous Louis XIII et Anne d'Autriche, Paris, Galeries Nationales du Grand Palais (Réunion des Musées Nationaux, 2002)
Uses
The cabinet works well in any number of rooms. For example, it could be used in an entry under a mirror, or in a living room behind a sofa, or merely on its own.