Price $9,895
Item 5217 - Length 55; height 29½; width 43¾ (in inches) extending to 110 when 2 leaves are inserted into sliding metal frame
Wood - Walnut
Date - Circa 1875
Country of Origin - France
Additional photos below text
This table is so large we had to photograph it outside, leading to effects of light and shadow
Just as with Gothic architecture, items of Gothic style furniture sometimes require the viewer to make heroic efforts in order to admire the most interesting bits. In the case of architecture, it may mean craning the neck in order to catch a glimpse of ornament obscured in the heights of a Gothic cathedral. In the case of this table, it means sitting down and leaning under it to appreciate the magnificent open fenestrage or tracery at the center of the base. Both are worth the effort.
And so, we will start our description of this table from the bottom up. What makes it unique is the use of panels of open tracery and, specifically, the presence of three such panels: one in the center and two perpendicular to it, facing toward the ends of the table.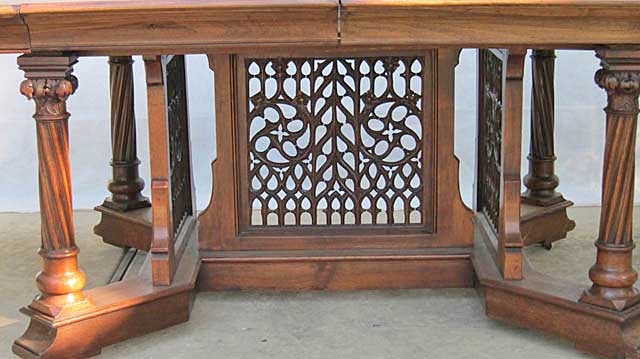 Their basic design involves two matching sections, reminding us of the designs we cut from folded paper as children and opened outward to reveal a complex design. The panel in the center is wider than the two on the ends and includes an additional section in the middle not seen on the panels at the ends.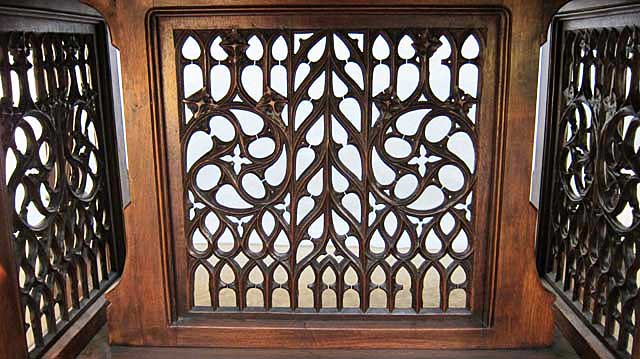 Forming the main figure, used twice on all three panels, is a tall ogee or "S" shaped arch. Each extends the full height of the panel and contains other elements of tracery. Such a sweeping arch is characteristic of the late Gothic style known as flamboyant for the use at the top of the arch of a stylized flame (flambe in Old French). For more about Gothic style and the flamboyant era, see our page on stylistic origins. Here, such an ornament is used at the top of the arch but also to supply crocketing on either side as the arch curves upward.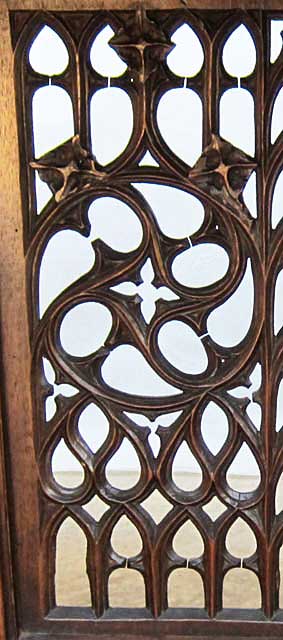 At the base of the central panel is a row of lancet arches, rather shorter in stature than what we typically see.
Sometimes with lancet arches, the indentations or cusps on either side meet in the middle, especially those carved from stone. In the case of arches made of wood for furniture, it is common to leave a gap because of the natural shrinkage and expansion taking place over the life of a piece and so as to prevent the arch from failing. In the case of this table, some of the tiny cusps forming the indentations are gone, as shown in the photos.
Above the lancet arches is a row including four trefoils or three-lobed figures. They resemble inverted heart shapes whose two open lobes at the bottom are soufflets or circular shapes tapered at one end, resembling bellows. The third or upper lobe is an open ellipse tapering to a point at the upper and lower ends.