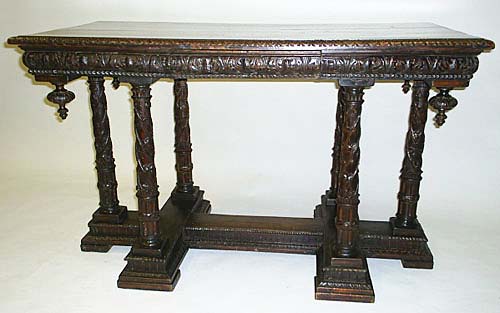 Price $3,865
Item 3304 - Width 49, Height 26, Depth 30 (in inches)
Wood - Walnut
Date - Circa 1790
Country of Origin - France
Additional photos below text
This table is one of the loveliest and most unusual we have ever offered. Known in the French antique world as a table croix de Lorraine (cross of Lorraine table) because of the shape of the base, the origins of the style are nonetheless Italian, like so much of French Renaissance design that is attributable to Italian artists and craftsmen who headed north across the Alps to work for King Francis I and his daughter-in-law, Catherine de' Medici.
The appellation cross of Lorraine was attached to this type of table in more recent times, evoking everything from Joan of Arc during the Hundred Years War, to the Dukes of Anjou, to the French Resistance movement during World War II and a film with that title starring Gene Kelly. What distinguishes the cross of Lorraine from other crosses is that it has two horizontal cross-bars rather than the one cross-bar characteristic of the Latin Cross.
A typical croix de Lorraine table was small, based on a 16th century design, almost austere in its lack of decoration, but whose base was comprised of a substantial, architectural moulding in the shape of a central stretcher with two cross-bars. Tables could have as many as six cross-bars and anywhere from seven to eleven vertical supports in the form of unfluted, Doric columns. The top extended lengthwise with leaves that pulled out from underneath it. The typical adornment was limited to toupies (pendentives or finials), extending downward, at the four corners of the table.
This table incorporates the shape and dimensions of the classic croix de Lorraine table. Its top does not extend, but a small disguised drawer is located on one side just below the top. It boasts four toupies, as in the traditional design, but intricately carved in harmony with rest of the table.
What attracted us to this table was the traditional design overlaid by a rich decorative vocabulary typical of the Second Renaissance in France (1530-1590). See, for example, table 9210 and table 9218. In particular, the vine motif encircling the legs has always been a favorite of ours, especially when we found a pair of columns in this design. For more about this and the importance to 19th century literary figure, Victor Hugo, see Columns 4165.
This style of table dates back to the designs of the masters, Hugues Sambin (1518-1601) and Jacques Androuet du Cerceau (1510-1585) at the zenith of the Second Renaissance. Both relied extensively on vegetation in their arsenal of ornamentation, including vines with leaves and occasionally even grapes. The super-charged and the ultimate in use of vines entwined around vertical supports can be found in the jarringly incongruous, curved columns flanking the upper portion of a cabinet attributed to François Parregod of France (from 1619) on display at the Historical Museum in Basel. More typically, the vine motif was integrated with other popular motifs of the time in overall decoration such as the stylized acanthus leaf and palmette of the top and dentil moulding on the base of this table, as seen in pieces dating from the early years of the 17th century.
We have never seen a table like this one come on the market or be available outside a museum. Based on our research, we have tentatively dated it at 1790, but it could well be older, given the nature of the walnut and the intricacy and exuberance of the carving. Indeed, the walnut used to make this table reflects the fine grain and rich color of old-growth trees unavailable in Europe after the early 1800s.
Rescued from apparent neglect, this table arrived from Europe wobbly and showing signs of insect infestation. (Bugs have good taste too and always go for the oldest, loveliest wood!). Our master restorer has re-glued the table using centuries old techniques and traditional materials, restored the top to reflect its timeless beauty and eliminated the insect infestation. The toupies, which are usually beat up in a table of this age, are original and perfectly preserved. Years of loving ownership are reflected in the dark, rich patina and the beautifully preserved, intricate carving, along with the obvious reverence its creator had for his Renaissance forebears.
Reference
Boccador, Jacqueline, Le Mobilier Français du Moyen Age à la Renaissance (Editions d'Art Monelle Hayot, Saint-Just-en-Chaussée, 1988); Charles, Corinne, Visions d'Intérieurs, du Meuble au Décor (Paris-Musées, Paris, 2003); Costantino Fioratti, Helen, Il Mobile Italiano (Giunti Editore, Firenze and Milano, 2004); Erlande-Brandenburg, Alain, et al, Hughes Sambin — Un Créateur au XVI Siècle (Réunion de Musées Nationaux, Paris, 2001); Fligny, Laurence, Le Mobilier en Picardie 1200-1700 (Picard Editeur, Paris, 1990); Thirion, Jacques, Le Mobilier du Moyen Age et de la Renaissance en France (Editions Faton, Dijon, 1998)
Uses
This table is not only a magnificent example of Renaissance design at its best, but also the focal point for attention wherever it is placed. Because of its small size it can be used as a desk, occasional table, console table behind a sofa or even as a coffee table.