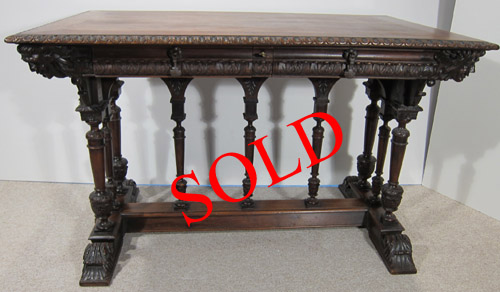 Item 9218 - Width 49, Height 31, Depth 31(in inches)
Wood - Walnut
Date - Circa 1850
Country of Origin - France
Additional photos below text
This solid walnut, exquisitely hand-carved table is a tribute to the four winds or possibly the four seasons, each of whose distinct visage is seen at a corner of the table top. Construction is based on an "H" stretcher ending in supports shaped as curved acanthus leaves. Atop the stretcher are graceful colonnettes. The sides of the table have armorial motifs based on the Renaissance designs of Jacques Androuet du Cerceau. But the table's ultimate stylistic origins are attributable to the rediscovery of Roman cartibula during the Italian Renaissance. Other typical Renaissance stylistic motifs include the pots à feu or "cup and cover" design at the base of each colonnette, the plume motifs framing the armorial panels and the palmette friezes around the top and at the base of the two drawers.
Based on a 16th century design, the table likely dates from the late 18th or early 19th century revival of interest in Renaissance furniture although the rich finish of the table is somewhat darker than that of its Renaissance forbears. Overall, the table has a symmetrical and highly pleasing architectural look. The piece is signed "G. Bonzans, R. Veron, 17 Paris." The drawers lock at a central keyhole with an elaborate key; the drawer pulls are original.
Reference
Ader-Tajan, Collection Bruno Perrier Haute Epoque (Catalog for Sale at Auction on April 6, 1992 at the Hôtel Drouot, Paris); Boccador, Jacqueline, Le Mobilier Français du Moyen Age à la Renaissance (Editions d'Art Monelle Hayot, Saint-Just-en-Chaussée, 1988); Thirion, Jacques, Le Mobilier du Moyen Age et de la Renaissance en France (Editions Faton, Dijon, 1998)
Uses
This table is not only a useful piece of furniture but due to its outstanding artistry is the focal point of any room it graces.