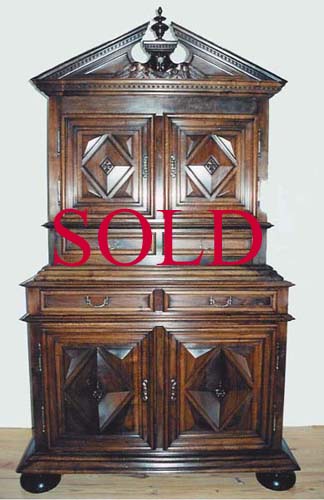 Item 135 - Width 59, Height 100, Depth 24 (in inches)
Wood - Walnut
Date - Circa 1780
Country of Origin - France
Additional photos below text
This antique, two-piece buffet cabinet (bahut deux corps) is of utterly imposing proportions – over 8 feet tall and almost 5 feet wide.
It is constructed exclusively of solid walnut and crowned by a cornice with an intricately carved angel's head and wings (angelot). For ease of mobility, it breaks down into sections so it can fit through small doors for re-assembly in a large room. It dates most likely from the 18th century and comes from central France (probably Périgord or the Auvergne), where the Louis XIII style of furniture carried on after the end of the 17th century. Unusual for French buffets, it has two doors and two small drawers in the upper part and two doors and one large drawer in the lower part. The front of lower drawer drops down so that the space can be used for serving food, quite literally, "buffet style." The cabinet is also unique in that the panels carved in the shape of diamonds each have a fleur-de-lys in their center. Considering the time of its construction using wood that was even older, the walnut displays an astonishing clarity, fine grain and richness of color unknown in pieces of later manufacture. Owing to its impeccable condition, it is likely that it stood in the same château or country home for an uninterrupted period from the day it left the cabinetmaker's workshop until it was acquired by M. Markley Antiques' partenaire in France. For other pieces where the fleur-de-lys is prominent, see armchair 1023, chest 1034, and table 9210.
Reference
Gairaud, Yves, Le Guidargus du Meuble Régional (Les Editions de l'Amateur, Paris, 1990); Boussel, Patrice, >Les Styles du Moyen Age à Louis XIV (Baschet et Cie, Paris, 1979); Rousseau, Francis, >Le Grand Livre des Meubles (Copyright Studio, Paris, 1999)
Uses
This massive buffet cabinet is truly eye-catching and best destined for a room of large proportions. It blends beautifully and complements decor in the Medieval and Renaissance (Henri II) styles.