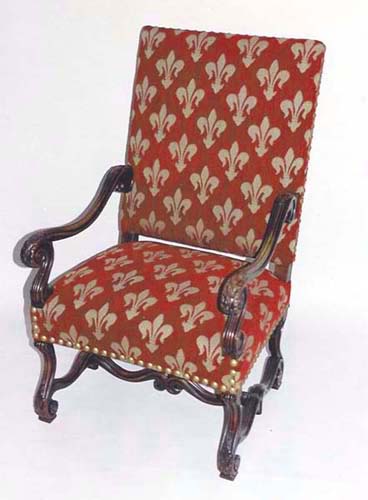 Price $3,195
Item 1023 - Width 26 at front and 24 at back of seat; Height 44¾; Depth 24 ½ (in inches)
Wood - Walnut
Date - Circa 1880
Country of Origin - France
Additional photos below text
The wooden frame of this chair is made of solid walnut and exquisitely hand carved, exhibiting such classic stylistic motifs as the scrolled acanthus leaf at the end of the armrest and the os de mouton or "sheep's bone" configuration of the stretcher. As with all our chairs, the foundation of cushion and springs has been completely rebuilt and the chair has been painstakingly re-glued so that it is once again sturdy and stable. In contrast to Medieval and Renaissance styles, the reign of Louis XIV gave rise to a breakthrough in chair construction, with the back becoming higher and the seat becoming larger to accommodate the more ample space required by the fashions of his day. This chair has a straight back rather than a curved one, more typical of an earlier era of Louis XIV's reign when the straight back was commonly paired with the os de mouton base.
New upholstery has been used, a pattern of bronze-colored fleur-de-lys against a background of red chenille, in keeping with the style at the court of Louis XIV where chairs were upholstered in richly colored brocades and damasks. For other pieces where the fleur-de-lys is prominent, see the 17th century chest 1034 and the two-piece cabinet 1035.
We were delighted to see the same motif of gold fleur-de-lys against a red background as a wall-covering and on a similar chair at Eastnor Castle, a wonderful 19th century Gothic pile, featured during an episode of Agatha Raisin (The Witch of Wyckhadden).
Reference
Quette, Anne-Marie, Le Mobilier Français Louis XIII et Louis XIV (Editions Massin, Paris, 1996); Rousseau, Francis, Le Grand Livre des Meubles (Copyright Studio, Paris, 1999)
Uses
This antique chair grabs one's attention no matter where it is placed. It complements many styles of furniture and can be used in virtually any room, for example, a formal living room, a paneled library, a home office, etc. Above all, it is comfortable and, once people sit in it, they will be reluctant to get up.