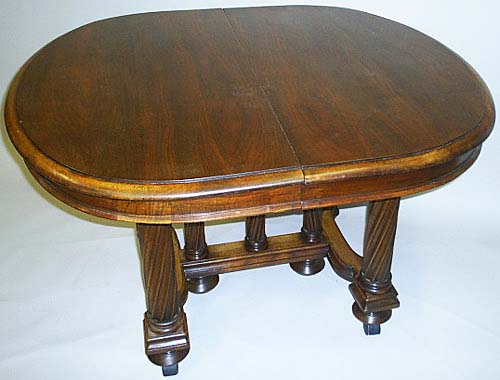 Price $1,375
Item 4107 - Length 46, Width 41½, Height 30¼ (in inches)
Wood - Walnut
Date - Circa 1890
Country of Origin - France
Additional photos below text
This dining table reflects a simple yet elegant design known as Henri II, popular from the late 19th century to World War II. The top is in the shape of a rectangle with slightly rounded corners. While at one time the table had unfinished leaves to be inserted in expanding it lengthwise, these have been lost to history. Creating replacements would be possible, if the buyer desires, but it would be difficult to match the beauty of the French walnut comprising the top. Indeed, the top of this table, in excellent condition, reflects the commitment of its owners over the last century in preserving the beauty of the walnut for future generations. We chose it because, unlike so many of its contemporaries, this table is entirely of solid walnut, no veneer.
They also took very good care of the rest of the table, mounting the bun feet on wheels that make it ideally mobile for modern dining rooms and kitchens. The base is in the form of an H-shaped stretcher, with the parallel elements gently curving. What is most striking about this table is the columns rising from the stretcher and supporting the tip. They are beautifully carved in a fluted design, sweeping diagonally in the pattern used for the columns of cathedrals built in the Middle Ages.
Reference
Boccador, Jacqueline, Le Mobilier Français du Moyen Age à la Renaissance (Editions d'Art Monelle Hayot, Saint-Just-en-Chaussée, 1988); Boussel, Patrice, Les Styles du Moyen Age à Louis XIV (Baschet et Cie, Paris, 1979); Thirion, Jacques, Le Mobilier du Moyen Age et de la Renaissance en France (Editions Faton, Dijon, 1998).
Uses
This table is ideal with four to six chairs in a small dining room or a large kitchen. There are also matching chairs for this table.