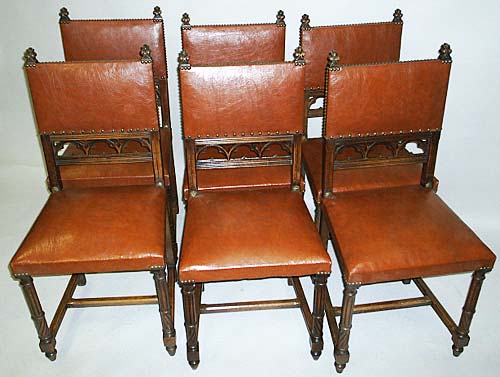 Price $1,985
Item 4107 - Width 16, Height 37½, Depth 16 (in inches)
Wood - Walnut
Date - Circa 1890
Country of Origin - France
Additional photos below text
These six Gothic style dining chairs combine a flair for medieval design with modern practicality and comfort. Their overall design is understated, with crocketed Gothic lunettes below the upholstered portion of the back of each chair, between mouldings of intricately carved walnut. The top of each side of the chair backs is crowned by a stylized fleur-de-lys also interpretable as a stylized flame, in keeping with the flamboyant style of late Gothic design named for the flame shape (often interchangeable with a fleur-de-lys) atop the curved arch in fenestrage or tracery. The base, comprised of the classic H-shaped stretcher, has legs at the front divided into an upper part with vertical flutes and a lower part with diagonal flutes, reminiscent of the columns of Gothic cathedrals.
In their current state, the chairs are upholstered in a cognac-colored leatherette that is in very good condition, but the buyer may wish to recover the chairs in leather or another fabric.
Reference
Boccador, Jacqueline, Le Mobilier Français du Moyen Age à la Renaissance (Editions d'Art Monelle Hayot, Saint-Just-en-Chaussée, 1988); Etude Tajan, Haute Epoque (Catalogue for Sale at Auction on September 24, 2003 at the Hôtel Drouot, Paris); Thirion, Jacques, Le Mobilier du Moyen Age et de la Renaissance en France (Editions Faton, Dijon, 1998).
Uses
Paired with Table 4107, the chairs and table together make an ideal dining set for a small dining room or in a large kitchen where there is need for a table and chairs for diners to congregate around the table and enjoy the cooking.