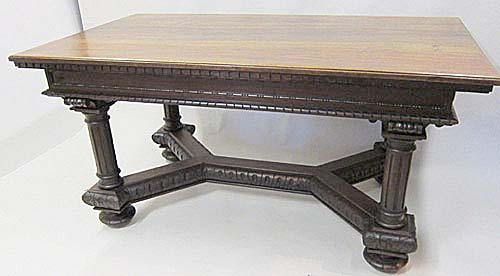 Price $2,125
Item 4188 - Width 65 ; Height 31½; Depth 36½ (in inches) Distance from the floor to the lower part of the tabletop is 24½
Wood - Walnut
Date - Circa 1890
Country of Origin - Italy
Additional photos below text
This Italian Renaissance style dining table is a charming example of the ruffles and flourishes that endear the Italians furniture designers to us. Just as the innovators of the Renaissance in quattrocento Florence drew on aspects of Roman design such as arches, columns, capitals and rhythmic gadrooning seen on building dating from ancient times, their 19th century descendants continued to use these elements in furniture to evoke empire, strength, permanence and originality.
It is interesting that a table in this shape, approximately half as wide as it long, would not have existed in Renaissance times when tables fell into two distinct categories - those to be seen and those to be covered by textiles. It was common for the dining table variety to be simple, based on a plank laid over sawhorses, since it would have been covered by opulent textiles conveying to visiting diners a sense of the owner's prosperity. On the other hand, a table designed to be viewed would be of the "library" variety, long and narrow, standing in the middle of a room where elaborately carved base and frieze could be duly admired. For an example, table 9210.
The designer of this table has taken the best of both worlds in a time when industrial manufacture of textiles made them cheaper and less symbolic of wealth than handcrafted furniture, on the upswing as objects of desire and symbols of wealth. A dining table such as this would likely have been part of a set with chairs and cabinets, commissioned for a specific space.
The table's basic design is an H-shaped stretcher as the base, in which the outside members have been angled inward. This base sits on massive bun feet, not of the plain variety used in France but bearing vertical indentations to reflect the rhythmic decoration used throughout the piece such as the stylized gadrooning of the base, as well as the dentil moulding and two different variations of the pearl-and-bar motif on the frieze below the tabletop. All convey the sense of its origins in classical architecture and a mastery of the decorative devices used by builders of Roman times.
Unlike so many tables dating from Italy in the 19th century, this one reveals no short-cuts or cheating - it is 100% solid walnut with no veneers. And while there is some insect damage on the feet, this does not impact the table's structural integrity.
The most representative color, given the challenges of photographing dark furniture, is in the image at the top of this page.
Reference
Costantino Fioratti, Helen, Il Mobile Italiano (Giunti Editore, Firenze-Milano, 2004); Rousseau, Francis, Le Grand Livre des Meubles (Copyright Studio, Paris, 1999); Wilk, Christopher, Western Furniture 1350 to the Present Day(Cross River Press, New York, 1996).
Uses
While originally designed as a dining table, this massive piece may also be ideal as an executive desk.