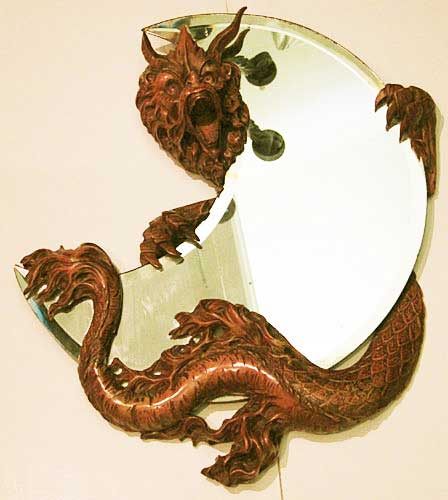 Price $3,380
Item 4177 - Width 23, Height 28, Depth 6 (in inches)
Wood - Sycamore
Date - Circa 1890
Country of Origin - France
Additional photos below text
We were delighted to find this crescent moon mirror evoking the designs popularized by Gabriel Viardot in France in the latter half of the 19th century. For more about Viardot and the dissemination of the dragon design, see mirror 5304.
This mirror is made of solid sycamore, a wood not typically used in France for furniture except for Art Nouveau. It is strong, durable, light in color, and characterized by a fine grain, making it ideal for dragon mirrors.
The carving on this mirror is complex and rich in detail. For example, the tail is covered in carved scales and feathery outcroppings, all elaborately carved. The head of the dragon is a masterpiece and very different from other dragons depicted in 19th century France. For example, instead of resembling a fearsome bird of prey, this dragon's head is broad, has a snout more canine or feline in nature, and has prominent horns. Like other dragons, its mouth is open revealing a full set of human-like teeth (no canines). Tufts of carved hair cover the sides of the face and forehead. Eyes are wide open and looking upward. Unlike our other dragon mirrors, if this dragon has wings they are not visible.
One of our favorite aspects of dragon mirrors is the intricate (and realistic) carving of the dragon's claws and their placement around the mirror, as if grasping it for us, the viewers wishing to see our reflections. One can imagine the coiled energy of the dragon, obscured by the mirror it clutches on both sides with it claws and on the bottom with his tail. The reality is that the back of the mirror is flat and unadorned, the dragon just a slab of wood.
As the photo at the bottom of the page shows, there is some damage to an outcropping of the dragon's tail but it is visible only upon close examination of the mirror from the side. A small crack is visible in the tail, when viewed from the front. It is likely the result of changes in humidity or temperature and does not affect the structural integrity of the piece.
Reference
Charles, Corinne, Visions d'Intérieurs, du Meuble au Décor (Paris-Musées, Paris, 2003); Faton-Boyancé, Jeanne (Ed.), Le Symbolisme du Bestiaire Médiéval Sculpté (Editions Faton, Dijon, 2010); Lightbown, R. W., Carlo Crivelli (Yale University Press, New Haven, 2004); Vanlian, Laurent and Cédric Curien, Dream of the Dragon (Groupe Horizon, Gémenos, 2012); Viollet-le-Duc, Eugène, Le Mobilier Médiéval (Georges Bernage, editor) (Editions Heimdal, 2003).
Uses
This mirror deserves to be admired and in doing so would reflect well on its owner in any room, especially where well-lit so the intricacy of the carving and the ingenuity of design can be enjoyed.