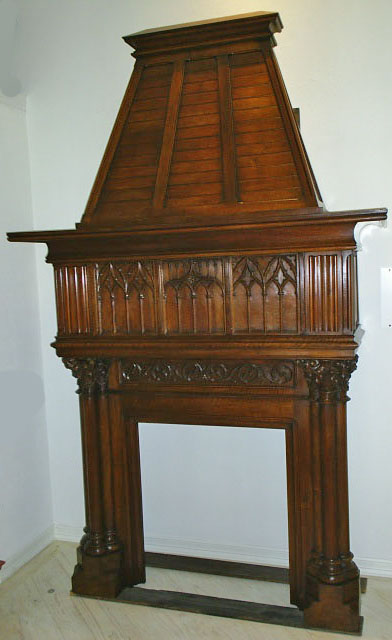 Price $7,309
Item 4110 - Width 66½, Height 110, Depth 25½ (in inches) [Overmantel is 38½ wide and 30 high] [Opening is 29½ wide, 33 high and 13 deep]
Wood - Walnut
Date - Circa 1890
Country of Origin - France
Additional photos below text
Sought relentlessly by collectors but seldom found, this massive gothic fireplace with over-mantel is an example of the illusive, the irreplaceable, and the incomparable.
As we've mentioned in other writings about French antique fireplaces and owing to concerns about safety and building techniques, it was not until the late 19th century that wooden fireplaces and mantels began to displace in popularity and affordability those made of more fire-resistant materials such as stone and marble. Therefore, unlike other pieces characterized as Gothic Revival, there is no Medieval original in wood upon which 19th century craftsmen could base their masterpieces. Instead, they took the stylistic themes and decorative elements they knew from other pieces of gothic furniture and applied them to the more modern fireplace.
While we have offered other gothic revival fireplaces in the past, in all our years of scouring Europe for them, we have only seen one other of this proportion (but, regrettably, sold by the time we found it). This one has lived out its life thus far in the Bordeaux region where it was lovingly cared for, as evidenced by the excellent state in which it came to us. The fireplace was part of a Gothic dining room including other pieces: a massive cabinet, a chandelier, dining chairs, and a dining table.
The walnut is a rich, warm brown - not too dark, not too light (despite the variations in the photos, since color is difficult to capture consistently). Ideal in its hue, the color is designed to enhance the viewer's enjoyment of the intricately carved tracery and arches within arches, reminiscent of countless cloisters across medieval France. Particularly remarkable are the cluster columns forming the verticals framing the firebox and evoking their stone forbears who supported the great gothic cathedrals of France.
The wooden fireplace itself breaks down into three pieces: the base framing the firebox, a middle frieze, and an over mantel. Together, they blend beautifully in a balanced design with dramatic effect. To those are added the cast iron surround and fire back that fit inside the wooden fireplace (as shown separately below). The decorative theme of the surround is ermine tails (for more about the symbolism of ermines, see chair 4111), perhaps paying tribute to the firm that made it in Nantes (Meubles Robert) in the Brittany region. The fire back, with an image of a stonebreaker, is reminiscent of Gustave Courbet's painting of the same name, destroyed in World War II in the bombing of Dresden. It is a reminder of the importance of the cantonniers or road-menders to the daily life of rural France in the 19th century, responsible for keeping France's vast road system in working order before the heyday of concrete and asphalt paving.
Reference
Boussel, Patrice, Les Styles du Moyen Age à Louis XIV (Baschet et Cie, Paris, 1979); Burckhardt, Monica, Mobilier Moyen-Age, Renaissance (Editions Ch. Massin, Paris, Undated); Robb, Graham, The Discovery of France (Norton, 2007); Viollet-le-Duc, Eugène, Le Mobilier Médiéval (Georges Bernage, editor) (Editions Heimdal, 2003)
Uses
This fireplace commands attention and should be deployed in a room with a high ceiling and sufficiently large for it to be admired not only close up but from a distance.