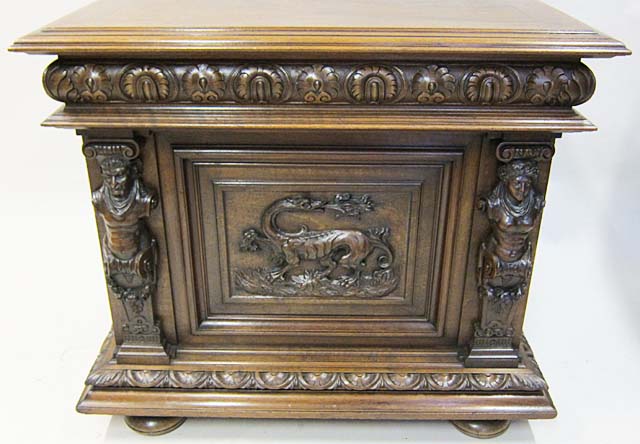 Price $3,995
Item 5154 - Width 32½; Height 28; Depth 22 (in inches)
Wood - Walnut
Date - Circa 1880
Country of Origin - France
Additional photos below text
This chest has all the special ingredients we admire about French antiques - an overall architectural design, magnificent carving, combined into a useful piece of furniture for a modern home or business.
Most striking is the central panel depicting a salamander, the heraldic symbol for King François I (reigned 1515-1547). The belief was that a salamander had mystical powers, and when thrown into a fire would not be consumed.
François was an interesting monarch for a number of reasons. First of all, he was relatively distant from the successions expected to take place and it was only when Louis XII died without a male heir that François became king, and conveniently, was already married to Claude de France, Louis XII's daughter who-- because she was female — could not inherit the throne. Then, about midway into François's reign, troops of the Holy Roman Emperor, Charles V, sacked Rome in 1527 and the great artists who had been working for Pope Clement VII hightailed it to safer locales. For many, including Rosso Fiorentino and Leonardo da Vinci, this meant France. Both worked for François I on projects including the expansion of Châteaux at Fontainebleau, Blois (replete with salamanders and the porcupine that Louis XII had included in his heraldry), Amboise, as well as the Palais du Louvre in Paris.
By the time François died and his son, Henri II took over, Italian artists and craftsmen were well-entrenched in France, a second wave having come north with Catherine de' Medici when she married Henri and together they put their own stamp on royal palaces such as Fontainebleau.
This flowering of design united architecture and furniture, as well as painting and sculpture, in what has come to be known as the Second Renaissance in France (1530-1590). Its chief characteristics included a focus on mythological and allegorical subject matter depicted in highly detailed drawings and prints such as those of Rosso Fiorentino exhibited at the National Gallery in Washington, D.C. In 1987.
A cult, of sorts, grew up around François I in the 19th century, on the heels of Gothic Revival (style troubadour in France), and involving a similar romanticizing of the Renaissance period and its real-life rulers. A fascinating article by Janet Cox-Rearick (see References, below) describes how 19th century French painters began depicting the king as an ideal ruler-prince and patron of the arts, involved directly with the artists he employed such as Leonardo da Vinci. Politically, this mirrored the post-Revolutionary period and restoration of the monarchy - art as propaganda. Symbols of past reigns, such as the fierce and intrepid salamander linked to François I, were idealized and promoted.
If one were to create a 19th century homage in walnut to François I and his chief artist/designer, Rosso Fiorentino (1495-1540), this chest would be the ideal result. A hallmark of the Second Renaissance involved cabinetry and chests with caryatids (female figures) and telamons (male figures) forming the pillars of front corners and framing a central scene. The furniture designer most devoted to these figures was Hugues Sambin (1520-1601) who arrived at Fontainebleau shortly after the death of Rosso but was influenced by his revolutionary designs in stucco framing the frescoes of the Galerie François I.
The salamander depicted in the central panel of this chest is one of the most fearsome depictions we have encountered. Not only is it shown surrounded by flames, they are shooting menacingly from its mouth - a sort of Renaissance flame thrower designed to keep even the most bloodthirsty enemy at bay. Its musculature displays a keen awareness of the coiled power of a salamander's legs and its ability to leap and throw itself aloft. The body is characterized by rippling rhythmical ribs, lending credence to the notion of a lean and mean warlike creature. Even the face of the salamander exudes menace, right down to the intricately carved teeth framing the tongue of flames issuing from its mouth. This salamander has talons with sharp claws that, while not anatomically correct, contribute to the overall premise of a menacing and ferocious creature. Looking at the ones scuttling around our backyard here in Texas, it's difficult to imagine such strength and endurance, but that's what myth and legend are all about.
Beyond the symbolism of creatures, the alternating palmettes comprising the upper and lower friezes of the chest, along with the tips of acanthus leaves seen at the corners of the base, reinforce the Renaissance roots of this piece. The intricate mouldings at top and bottom lend weight and balance to the strongly architectural nature of this chest.
As with so many pieces echoing the Second Renaissance and the 16th century, the stylistic elements such as caryatids, palmettes, and acanthus leaves are decidedly Italian, the unequivocal stamp of Frenchness is provided by the bun feet, instead of lions paws (as one would see on an Italian chest), even if one did not know the symbolic origins of the salamander. The finishing touch of Renaissance design is seen in the side panels where an oval shield-like design is framed by elaborate flourishes of acanthus leaves.
The walnut from which this chest has been carved is especially exquisite. Its rich patina and fine grain are among the most beautiful examples of walnut used in furniture. And while the photos reflect tiny holes evidencing past insect damage, it is likely as old as the chest itself. There is no evidence of current infestation. The top reflects clearly the grain of the wood in all its richness and natural variations of color.
The most representative color, given the challenges of photographing dark furniture, is in the image at the top of this page.
Reference
Boccador, Jacqueline, Le Mobilier Français du Moyen Age à la Renaissance (Editions d'Art Monelle Hayot, Saint-Just-en-Chaussée, 1988); Carroll, Eugene A., Rosso Fiorentino, Drawings, Prints, and Decorative Arts, (National Gallery of Art, Washington, D.C., 1987); Cox-Rearick, Janet, Imagining the Renaissance: The Nineteenth-Century Cult of François I as Patron of Art, 50 Renaissance Quarterly (1997); Crépin-Leblond, Thierry, Le Roi et L'Artiste (Réunion des Musées Nationaux, Paris, 2013); Erlande-Brandenburg, Alain, et al, Hughes Sambin — Un Créateur au XVI Siècle (Réunion de Musées Nationaux, Paris, 2001); Salmon, Xavier, Fontainebleau — Le Temps des Italiens, (Editions Snoeck, Gand-Courtrai, 2013);
Uses
This chest is ideal behind a couch or at the foot of a bed. Owing to its compact size, it would also work well as an end table for a couch (with the back facing the side of the couch).