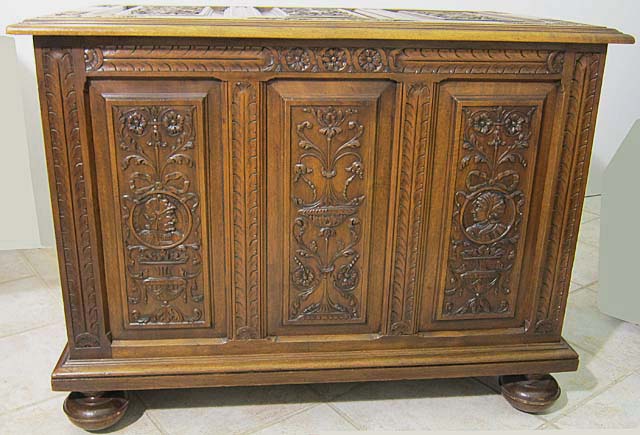 Price $3,662
Item 3213 - Width 37½, Height 28½, Depth 22 (in inches)
Wood - Walnut
Date - Circa 1890
Country of Origin - France
Additional photos below text
This chest, intricately carved from solid walnut, evokes the height of the period known as the First Renaissance (1490-1530) in France, and identified in particular with the reign François I (1515-1547) and artists such as Rosso Fiorentino who were engaged by him to decorate additions to Fontainebleau Castle. Stylistically, this era is characterized by the use of medallions of heads in profile, wearing elaborate helmets or headdresses, sculpted within highly decorated wood panels comprising chests, armoires and dressoirs. It has been speculated that this emphasis on personages, including clothing and headgear, paid tribute to the financial success enjoyed increasingly during this era, symbolizing the importance of genealogy and a family's entree into the bourgeoisie. However, they also reflect a fascination in the Renaissance with Roman military trappings including bronze helmets unearthed in ruins of the ancient capital. At the same time, elaborate ceremonial armor based on these ancient designs was worn by nobility and created by some of the most skilled craftsmen of their day.
This chest is particularly unusual since, unlike its 16th century forebears, not only the front but also the top are intricately sculpted with panels including heads in profile. Each rendering is unique, a man and a woman, gazing at each other across a central panel. Although we have not traced the images to any 16th century furniture, the characteristics are consistent with the styles of that epoch. Overall, the style of carving of the six highly decorative panels (three on top, three on the front) also reflects the First Renaissance in its low relief and emphasis on vases, leaves, swirling stems and flowers, inspired by contemporary books of engravings of Rosso Fiorentino's designs and by Raphael's masterpieces such as the interiors at Villa Farnesina in Rome. Dividing and framing the decorative panels are elongated feathers signaling the dawn of an era characterized by fascination with feather headdresses from the New World. Harking back to its medieval roots, however, this chest stands on sturdy bun feet.
Reference
Ader-Tajan, Collection Bruno Perrier Haute Epoque (Catalog for Sale at Auction on April 6, 1992 at the Hôtel Drouot, Paris); Boccador, Jacqueline, Le Mobilier Français du Moyen Age à la Renaissance (Editions d'Art Monelle Hayot, Saint-Just-en-Chaussée, 1988); Carroll, Eugene A., Rosso Fiorentino, Drawings, Prints, and Decorative Arts, (National Gallery of Art, Washington, D.C., 1987); Cassar, Robert, Armour and the Lure of Classical Pattern in Ornament and Malta (Heritage Malta, Valletta, 2011); Crépin-Leblond, Thierry, Le Roi et L'Artiste (Réunion des Musées Nationaux, Paris, 2013); Rouyer, Eugène (Ed.), French Architectural Ornament from Versailles, Fontainebleau and Other Palaces (Dover Publications, New York, 2007); Salmon, Xavier, Fontainebleau — Le Temps des Italiens (Editions Snoek, Gand-Courtrai, 2013); Ward-Jackson, Peter, Some Main Streams and Tributaries in European Ornament from 1500 to 1750 (Victoria and Albert Museum, London, 1969); Zamperini, Alessandra, Ornament and the Grotesque (Thames & Hudson, London, 2008).
Uses
This chest is ideal in the usual role of blanket chest at the end of a bed but due to its height would also work well behind a couch or as an occasional piece in virtually any room of a home or office.