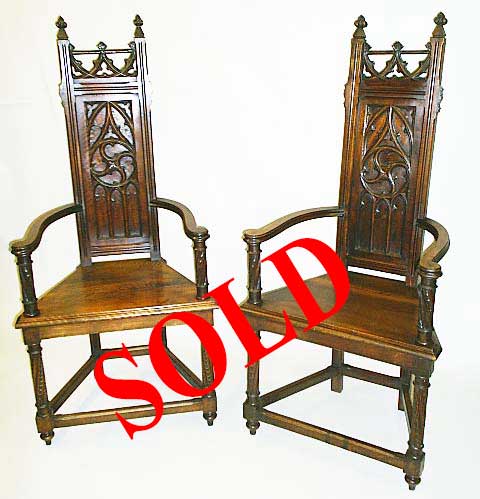 Item 4118 - Width 21, Height 54, Depth 17 (in inches)
Wood - Walnut
Date - Circa 1890
Country of Origin - France
Additional photos below text
These two matching Gothic chairs are fine examples of the 19th century revival in France of interest in designs of the Middle Ages and Renaissance. The armchairs are classic caquetoires - trapezoidal-shaped seat echoed below in the stretcher. This shape, also referred to 'as in the manner of Tallemouze,' is another charming example of design evoking food: the talmouse was a triangular puff pastry dating from medieval times but now recognized as the ancestor of the cheesecake. The origin of the term caquetoire, however, is a bit sexist to the modern observer. According to the Rijksmuseum in Amsterdam, the caquetoire was developed as a conversation chair for women (the French verb caqueter means "to chat"). The broad, trapezoidal seat accommodated wide dresses worn by ladies of the 16th century who otherwise had been relegated to stools or window seats (except in the case of aristocracy and royalty) while their male counterparts sat on chairs.
Other features of the armchairs harking back to the haute époque caquetoire include the narrow back out of which curving arms attach to posts in the shape of columns extending vertically from the seat. What attracted us to them was that the decoration is Gothic, in the nature of fenestrage or the tracery patterns found in windows of Gothic cathedrals. That Gothic elements would be used by a 19th century creator of a chair whose design owes its origins to the Renaissance reinforces the notion that Gothic and Renaissance coexisted quite comfortably in the 19th century revival of both styles in France.
The intricate hand-carving of the backs and the railing feature of the top displays the best of Gothic design in 19th century reinterpretation. For example, the railing feature is typically seen atop benches and chayres or thrones for bishops. And the elongated central panel of the back of each chair is more often seen in sets of dining chairs where each chair is slightly different within the overall effect of the tracery. The columns supporting the armrest and the seats again evoke Gothic cathedral design in their diagonal fluting, including alternating plain and entrelac or overlapping patterns. More Renaissance in nature is the curving armrest rather than the more angular version favored in other caquetoires, such as 4149.
Reference
Boccador, Jacqueline, Le Mobilier Français du Moyen Age à la Renaissance (Editions d'Art Monelle Hayot, Saint-Just-en-Chaussée, 1988); Boussel, Patrice, Les Styles du Moyen Age à Louis XIV (Baschet et Cie, Paris, 1979); Rousseau, Francis, Le Grand Livre des Meubles (Copyright Studio, Paris, 1999)
Uses
These chairs are ideal for a dining area around a small table or as occasional chairs in any room.