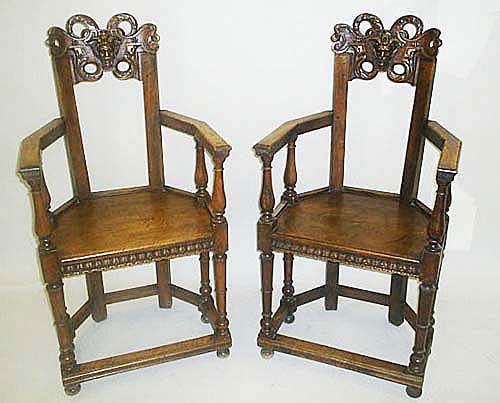 Price $2,989
Item 4149 - Width 19½, Height 48, Depth 17 (in inches)
Wood - Walnut
Date - Circa 1870
Country of Origin - France
Additional photos below text
On a recent trip to France we came across these exceptional, solid walnut caquetoires at one of our partenaires in St. Ouen. We were immediately taken by the unusually light color of the walnut and the overall shape that suggested sturdiness and medieval style. Our partenaire told us a terrific story about how the chairs had been made in Paris in the late 19th century for a Mr. Roger Pottier who lived in a chateau in central France in the town of Bigny. He said the chairs had been based on an original design by Eugène Viollet-le-Duc, legendary architect, preserver of the medieval monuments, furniture designer, restorer and the committed champion of the Gothic Revival in France.
Well known for his restorations of Notre Dame de Paris and the walled city of Carcassone, Viollet-le-Duc had a profound influence on the development and use of Gothic design elements in furniture as well, and so this connection seems thoroughly plausible. The chairs had but one set of owners since they were made, and now, he said three (including himself and us). As proof of his tale, he turned over one of the chairs, and sure enough, there was an original shipping label attached that had helped to direct the chairs to Mr. Pottier probably by train.
Since then, and thanks to discovering an electronic version of a catalogue from 1925, we know that what is now called the Museum of the Middle Ages (the "Cluny") in Paris has had in its collection a chair that almost certainly acted as the model for our pair of chairs. The description in that catalogue dates it to the end of the 16th century, having been acquired from the warehouse of the abby church of Saint-Dénis. Despite many visits to the Cluny, we have never seen this chair and we do not know if it is still in the museum's collection. But it definitely provides an interesting background for how our chairs came to be.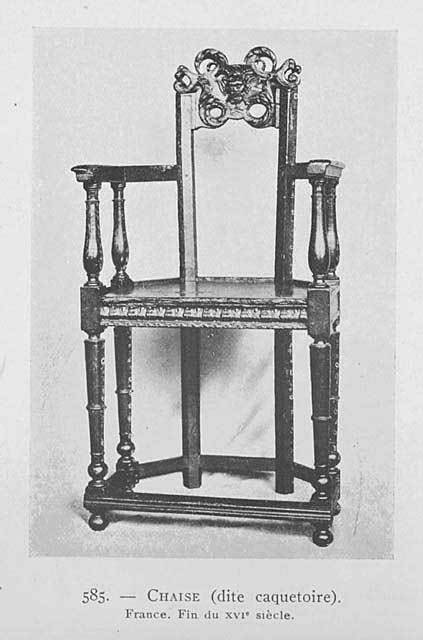 Although more massive in construction than the typical caquetoire (see, for example, item 4118), the basic design for these chairs owes its origins to the Gothic caquetoire whose seat was trapezoidal in shape - four-sided with the front side broader than the back side in order to accommodate ladies' fashions of the times. However, in this case the seats are six-sided instead of four-sided and we have had custom leather cushions made, in the hue of aged cognac, to accommodate them (although not included in photographs). Four wooden turnings support the front part of each seat and arms. There are a total of six points of support of the seat and chair on the floor with the front ones in the form of two small bun feet. There is a small carved frieze across the front of the chairs, just under the seats.
The eye-catching aspect of these chairs is the intricately carved back which features a carved grotesque head or "masque" with rams' horns, surrounded by swirling acanthus leaves. For those of a particular mindset, the face is sometimes described as a grotesque which was relatively common in neo-gothic and neo-renaissance pieces, not to mention the gargoyles added to Notre Dame de Paris by Viollet-le-Duc.
There is a partial dark ring on one of the seats (see photo), and some old insect damage at the tops of one of the backs, but the insect damage is cosmetic and of no structural consequence. One of the arms appears to have been split near the back vertical post, but it appears it was re-glued and there is no evidence of weakness or anything other than a dark line that indicates to me that it had split and had been re-glued.
As mentioned above, we have had two leather cushions made to add comfort and complete the intention of the designer, considering that there is a ridge around the seats to accommodate a pad or cushion. A cushion will also obscure the dark ring on one of the seats. We propose that these chairs be more in the nature of decorative items and appreciation of the carved masques since leaning back will cause the carving to enter your physical consciousness as it contacts you upper spine! But they are a very handsome and wonderful addition to anyone seeking the kind of medieval ambiance they impart.
Reference
Ader-Tajan, Collection Bruno Perrier Haute Epoque (Catalog for Sale at Auction on April 6, 1992 at the Hôtel Drouot, Paris); Boccador, Jacqueline, Le Mobilier Français du Moyen Age à la Renaissance (Editions d'Art Monelle Hayot, Saint-Just-en-Chaussée, 1988); Bos, Agnès, Mobilier du Moyen Age et de la Renaissance — La Collection du Musée du Louvre (Editions du Musée du Louvre/Somogy, Paris, 2019); Haraucourt, Edmond, Catalogue des Bois Sculptés et Meubles (au Musée des Thermes et de l'Hôtel de Cluny) (Musées Nationaux, Paris, 1925); Thirion, Jacques, Le Mobilier du Moyen Age et de la Renaissance en France (Editions Faton, Dijon, 1998); Viollet-le-Duc, Eugène, Le Mobilier Médiéval (Georges Bernage, editor) (Editions Heimdal, 2003) .
Uses
This striking pair of caquetoires can be grouped around a small table like our #3209, in a living or family room setting, a great accompaniment for a library table in a library, or placed at either end of a low gothic chest in a wide hallway or entry.