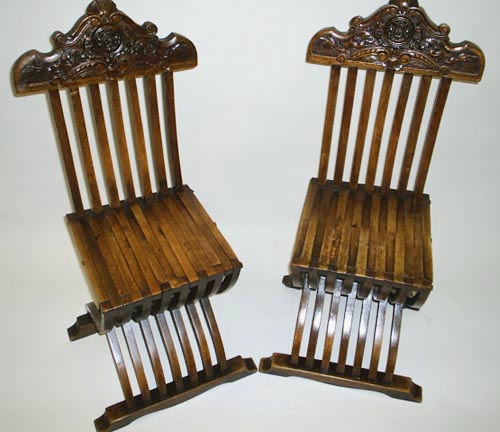 Price $897
Item 3221 - Width 13, Height 39, Depth 14 (in inches)
Wood - Beech
Date - Circa 1880
Country of Origin - France or Italy
Additional photos below text
These "X" style chairs are variations on the design of armchairs known as Savonarola chairs. Whereas the latter have the X and the folding mechanism running from side to side, these chairs, without arms, have the X and folding mechanism from front to back. They are narrower in the seat and back than the armchair design but still display intricate carving and scrollwork on the rail which forms the top piece of the back.
Reference
Ader-Tajan, Collection Bruno Perrier Haute Epoque (Catalog for Sale at Auction on April 6, 1992 at the Hôtel Drouot, Paris); Boccador, Jacqueline, Le Mobilier Français du Moyen Age à la Renaissance, Editions d'Art Monelle Hayot (Saint-Just-en-Chaussée, 1988)
Uses
These chairs complement any other Renaissance or Medieval items in a room.