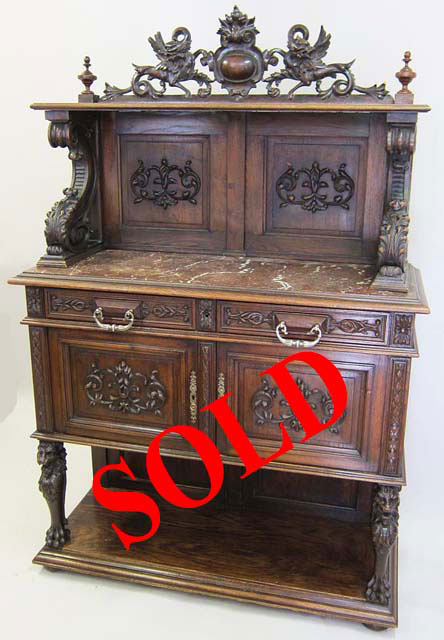 Item 5183B - Width 48; Height 72; Depth 18 (in inches)
Wood - Oak
Date - Circa 1870
Country of Origin - France
Additional photos below text
This cabinet, relatively small in stature and with a marble top just above waist height, is called a dessert in French because it was designed to display desserts and keep them (relatively) cool by placing serving plates on a marble surface chilled by containers of ice at either end. It was acquired by us as part of a set including Cabinet 5183A, its larger sibling, with which it shares many characteristics. For more about the decorative elements they have in common, see Cabinet 5183A.
While the arabesque appliqués on the panels perpendicular to the marble surface resemble those used on Cabinet 5183A, they are not exactly the same. Similarly, the arabesques on the door panels embody the same concepts but are more elaborate. These variations on a theme provide a unifying force for the two pieces while highlighting the creativity of the designer in intriguing the viewer or owner by making the renditions distinct.
Lion-figures are used to support the front part of the cabinet and delineate the pot-board, as with Cabinet 5183A, but here the lions are smaller in stature owing to the shorter distance between the pot-board and the bottom of the case. As with 5183A, we have replaced the rotted oak panel comprising the pot-board.
As a beloved and standard item in 19th century French dining rooms, the dessert owes its origins to the so-called Second Renaissance period where furniture makers in Lyon, France and the surrounding areas conceived this type of cabinet. They created what was called an étagère or buffet de parade consisting of a horizontal surface on which to display dishes in the upper part, above two drawers, and including a pot-board as part of the base. In the 19th century it became common to use a marble top for the main display area. In this case, the marble appears to be original since it is reddish-brown and brightly veined, typical of many pieces of the period. However, it has been glued to the cabinet – not by us – which may have caused the small crack on the left side. This cabinet proves an exceptional reinterpretation of the original Lyonnais design.
The most representative color, given the challenges of photographing dark furniture, is in the image at the top of this page.
Reference
In addition to those listed for Cabinet 5183A, see Ader-Tajan, Collection Bruno Perrier Haute Epoque Deuxième Vente (Catalog for Sale at Auction on December 7, 1993 at Hôtel George V, Paris).
Uses
With or without Cabinet 5183A, this small buffet cabinet is perfect for reinvigorating the French tradition of creating and serving delectable desserts.