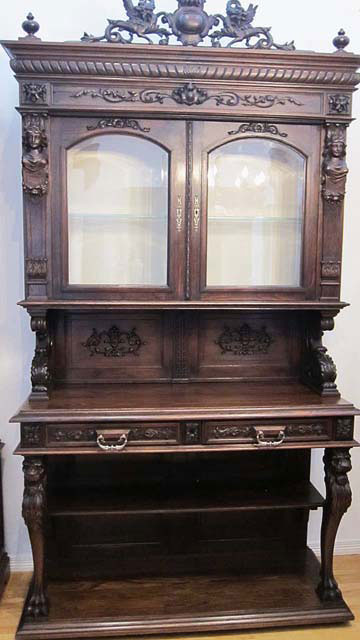 Price $4,336
Item 5183A - Width 58 ; Height 108; Depth 22 (in inches)
Wood - Oak
Date - Circa 1870
Country of Origin - France
Additional photos below text
This cabinet evokes the masterpieces of the Fontainebleau School of furniture design from the second half of the 16th century, distilling key elements into a simple yet elegant 19th century piece of Renaissance Revival furniture.
In overall structure it is based on the dressoir, or cabinet with an open bottom space, which was so beloved in France from the Middle Ages up through the reign of King Louis XIII (1610-1643). The upper cabinet has glass panels in the doors where, in Renaissance times, one would have expected to find an ornately carved scene from Roman history or mythology instead of glass.
We have installed a linear LED lighting system in this upper portion so that it can be used to showcase items such as ceramics, porcelain, silver, etc. The original wooden shelf has been replaced with one custom-made of specialized glass permitting light to pass through it without the greenish tint characteristic of plate glass. Extra thick (one-half inch), it is designed to hold relatively heavy objects such as ceramic jardinières and display plates.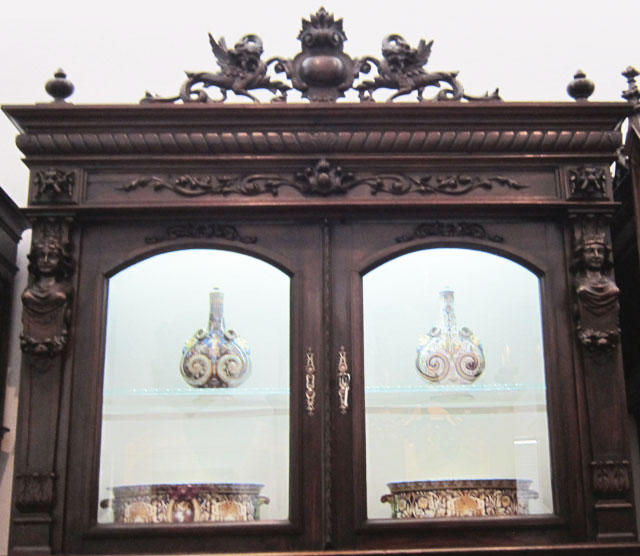 The lower part of the cabinet is open; involving what is called a "pot board" for displaying items. An additional shelf is fixed to the back of the base.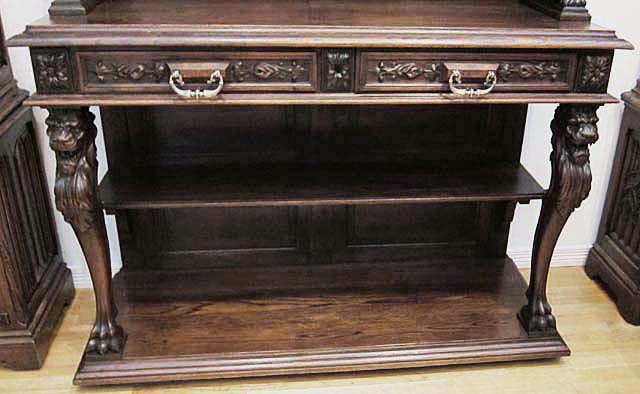 Between the upper cabinet and the pot board is a central display area. The horizontal surface has been replaced with a piece of modern oak due to significant and irreparable damage to the original top.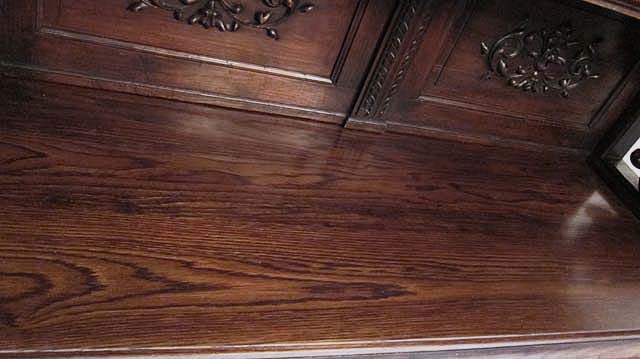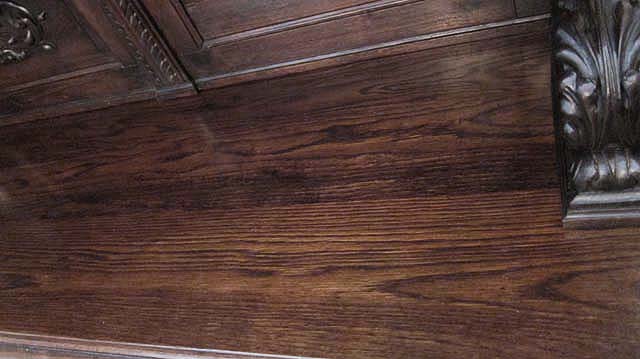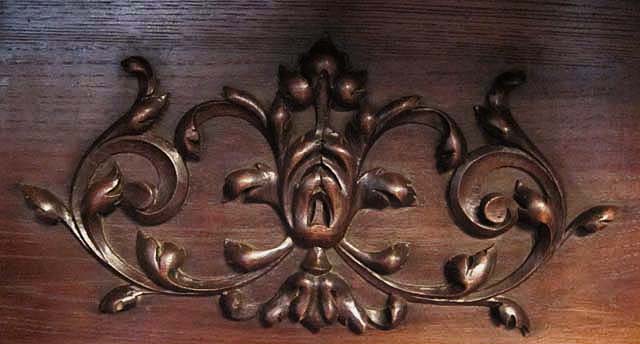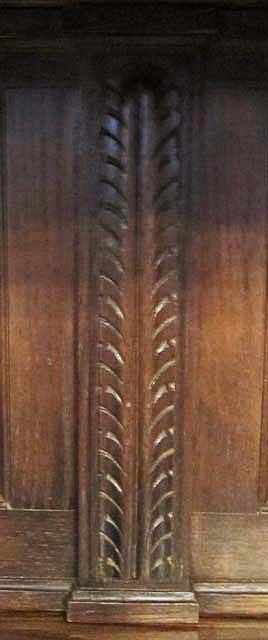 Below it are two drawers ornamented with traditional foliage designs. On either end and in between the drawers is a carved flower. The drawer-pulls are ornate and original.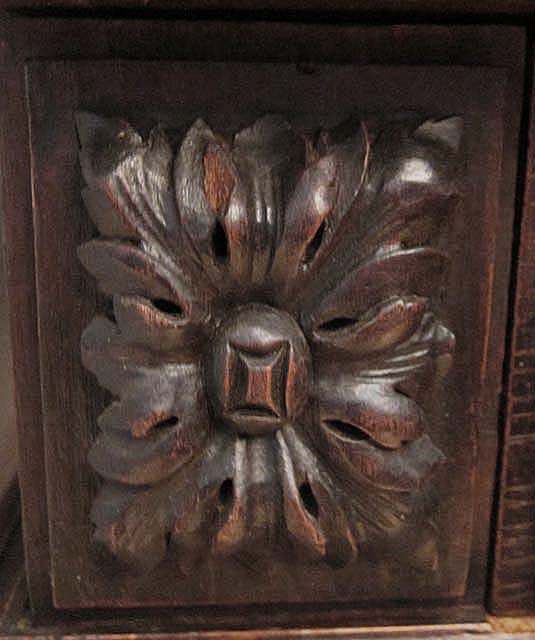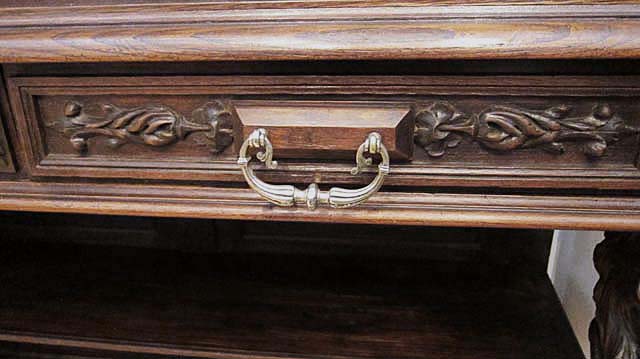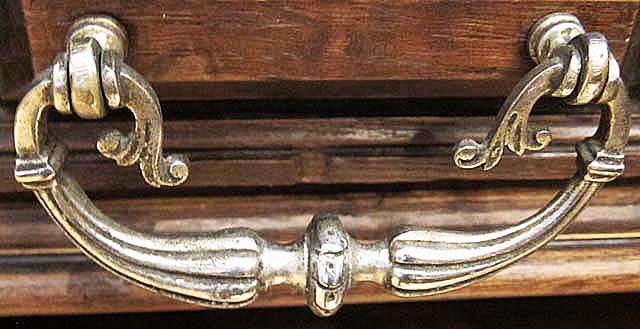 Generally, the decorative elements found on this cabinet include variations on ornamentation involving acanthus leaves, palmettes, and flowers — the basic vocabulary of Renaissance furniture makers. These are used to fill and enhance spaces such as those at the back of the pot-board, the fronts of the drawers, and at the back of the central display area. Particularly beautiful are the corbels on either side of the central part of the cabinet and used to support the upper case. The scroll-work and gently curving acanthus leaves remind us of the stucco forms used by Rosso Fiorentino in the Galérie François I at Fontainebleau in the 1530s and which inspired furniture designers for the balance of the 16th century. We describe it more fully in this article about our visit there.
At first, we were perplexed by the "term" figures or statuettes on each side of the top of the cabinet until we noticed that each had a lion's head in a mask-like shape on top of the female figure's head. Such figures comprised of head and torsos, transitioning into a lower pedestal, were used to delineate the structure of Renaissance cabinets, typically on either side of upper and lower cases and dividing those cases in the middle. The origin of "term" is from "Terminus," a Roman god responsible for boundaries and refers especially to architecture. Term figures provided Renaissance-era craftsmen with opportunities to demonstrate their carving skills, which are in evidence in this 19th century piece as well.

Research led us to a possible explanation for these female term figures, better known as caryatids, linking them to the twelve labors of the Roman demi-god, Hercules. According to myth, the first of Hercules' labors was to slay the Nemean lion and bring its skin to King Eurystheus. This task was truly herculean since the legendary lion was impervious to arrows. Instead, Hercules beat the lion over the head with a club and killed it, but then found he was unable to skin it. The goddess Minerva, Athena to the Greeks, appeared to Hercules and suggested using the lion's own claw to skin it. This worked, and Hercules reported to King Eurystheus wearing the lion skin as a cape and with its head covering his own. Even after the lion's death, its skin remained impervious and provided protection for the hero. For an example of how this looked to the Romans, see this statue in the collection of the Metropolitan Museum of Art in New York. There are numerous other examples of the lion's skin displayed in this manner and which would have been readily available to Renaissance furniture designers and their 19th century counterparts.
But if Hercules was a guy, why are these term figures wearing the lion's head masks women? We propose two possible explanations. One is that the female figure is Minerva, who helped Hercules discern how to skin the Nemean lion. Another possible explanation is that the female figures represent the young women that the Nemean lion was supposed to have kidnapped and taken to its lair. The lion would disguise itself as one of these women in order to lure their potential rescuers closer. Then it would transform itself into a lion and devour them. For purposes of this cabinet, we prefer the Minerva explanation, especially since she was commonly depicted in caryatids and other architectural elements and typically wore a helmet.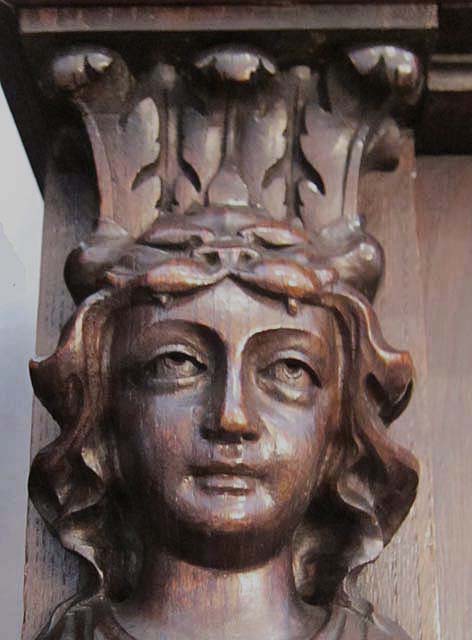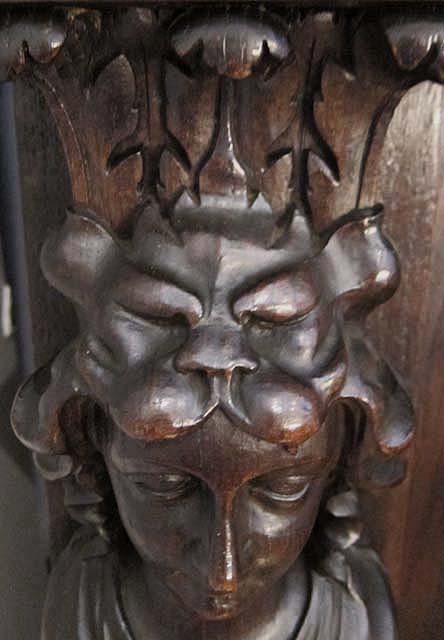 Above the term figures is a mask, another popular decorative element in the Renaissance and one susceptible of many fanciful treatments. This one could be said to resemble a lion's muffle and reminds us of similar figures found around the base of a chest in the Medici Room at the Museum of the Renaissance in Ecouen.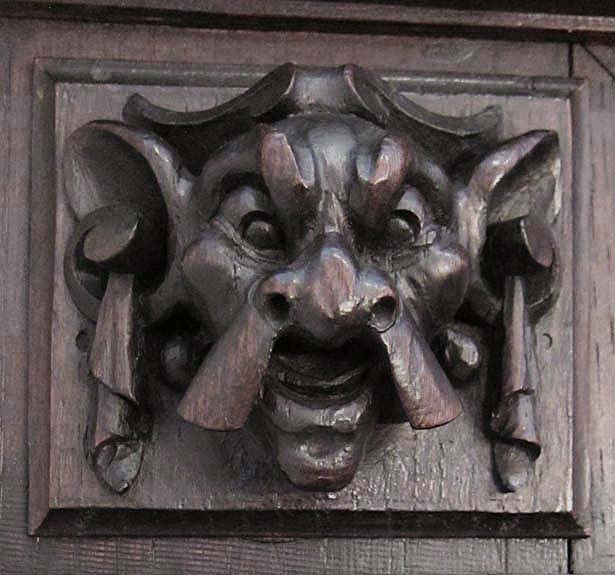 The lion theme is most assertive in the base of the cabinet. Acting as supports are balusters in the shape of a lion's head with its mane transitioning downward into an elaborate acanthus leaf and then into a lion's foot. The lions' heads are exquisitely carved, portraying ferociousness rather than the regal depictions seen in heraldry. Their mouths are open, revealing impressive fangs such as those with which the Nemean lion must have torn apart its prey.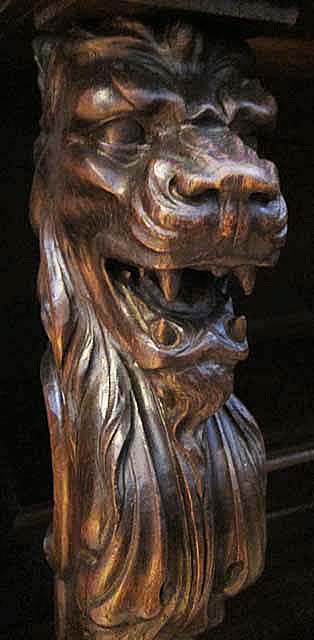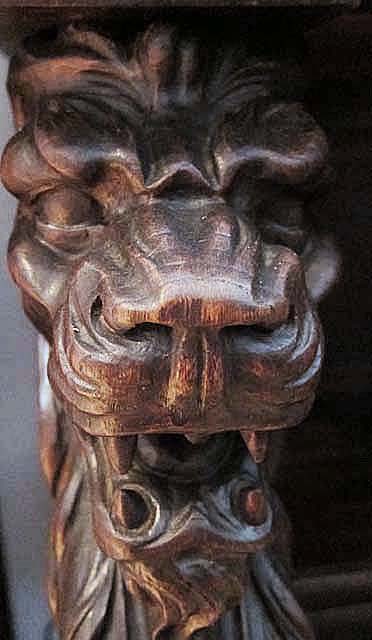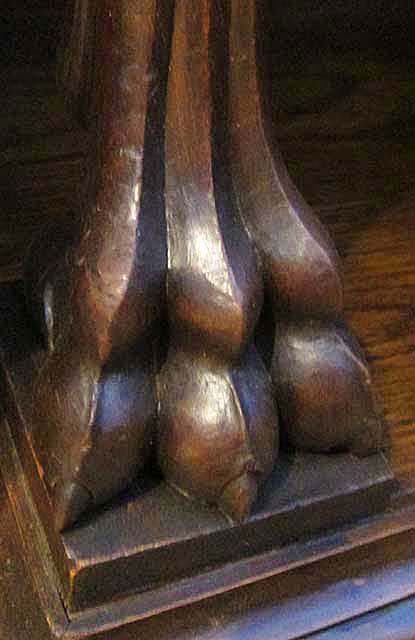 The mythological themes continue with the uppermost portion of the cabinet, where a removable crowning piece features griffins rampant. Exuberant griffins with long, looping necks are found on either side of a central medallion, each one with a paw on a piece of curled strap-work designed to mimic leather (possibly lion's skin?). That they are creatures (head and wings of an eagle, body and claws of a lion) whose mythological make-up includes leonine elements is another link to the Hercules legend for this cabinet.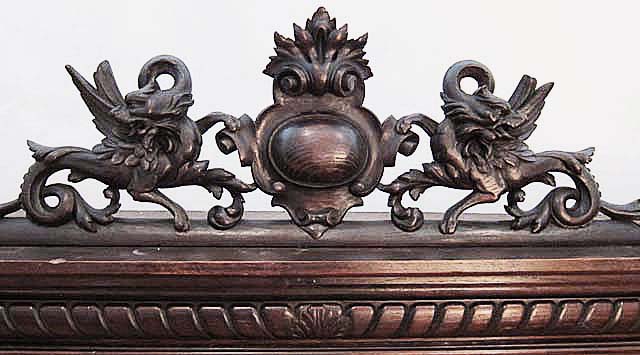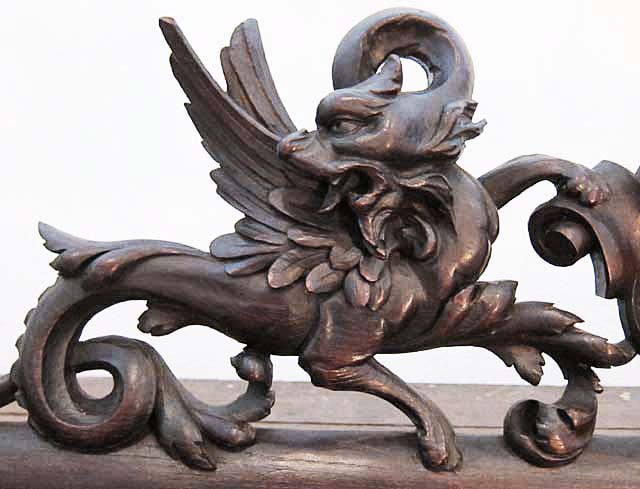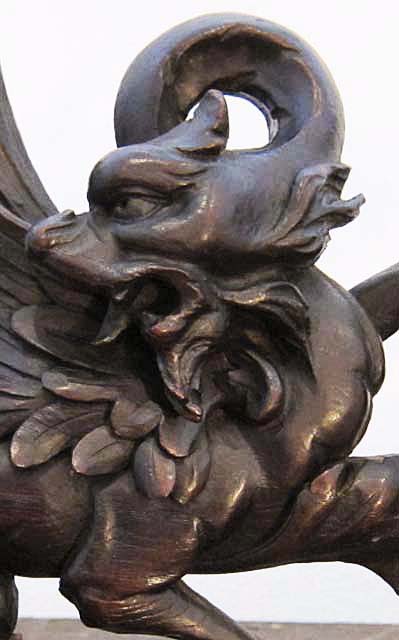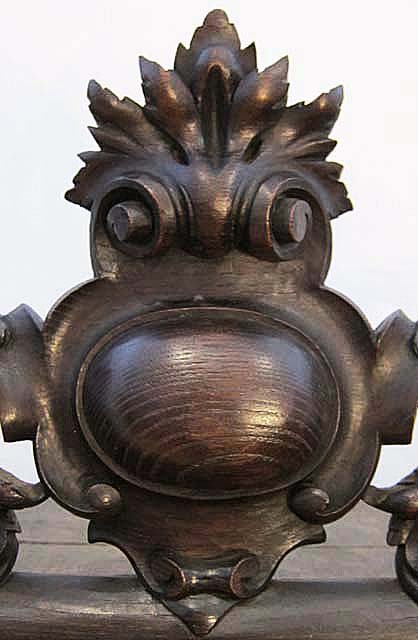 The central medallion of this crowning piece is repeated in the ornamentation just below this portion of the upper cabinet. There is a crack on the left side of this foliage ornamentation but it does not impact the structural integrity of the cabinet.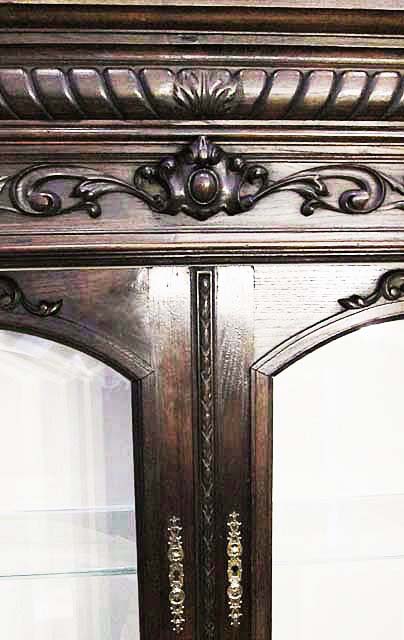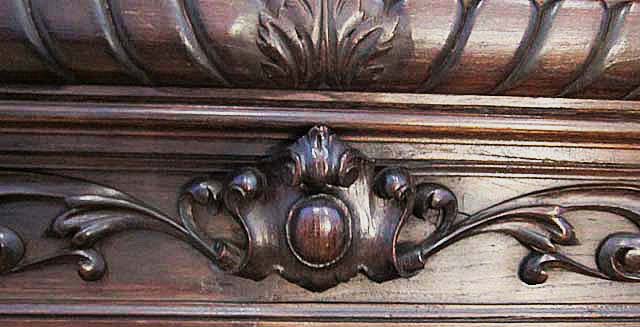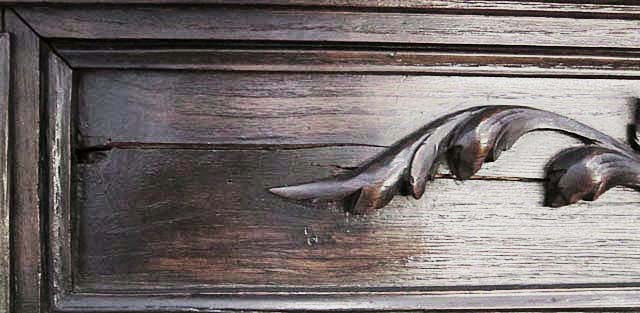 Ornamentation laden with symbolism was common in antiquity as well as in architecture and furniture of Renaissance France. As mentioned above, many 19th century examples can be traced to designs of Rosso Fiorentino. His stuccoes inspired engravings by other artists (e.g., Caraglio, Boyvin), which were widely disseminated in France, as well as furniture designs for balusters and cabinets by Jacques Androuet du Cerceau and Hugues Sambin. Beautifully carved, the figures and ornamentation on this cabinet hark back to Renaissance forbears but delight across the centuries while evoking another time, as their creator intended.
Finally, we note that this cabinet comes apart in three sections (plus the removable crowning piece) so it is not a herculean task to move it! They consist of top, middle section with corbels on either side, and bottom.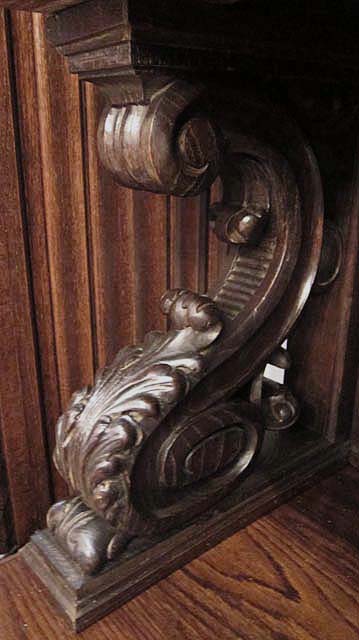 The most representative color, given the challenges of photographing dark furniture, is in the image at the top of this page.
Reference
Ader-Tajan, Collection Bruno Perrier Haute Epoque (Catalog for Sale at Auction on April 6, 1992 at the Hôtel Drouot, Paris); Boccador, Jacqueline, Le Mobilier Français du Moyen Age à la Renaissance, Editions d'Art Monelle Hayot (Saint-Just-en-Chaussée, 1988) ; Carroll, Eugene A., Rosso Fiorentino, Drawings, Prints, and Decorative Arts (National Gallery of Art, Washington, D.C., 1987), Crépin-Leblond, Thierry, Le Roi et L'Artiste (Réunion des Musées Nationaux, Paris, 2013); Musée National de la Renaissance, Hughes Sambin – Un Créateur au XVI Siècle (Réunion des Musées Nationaux, Paris, 2001); Picón, Carlos A. et al, Art of the Classical World in the Metropolitan Museum of Art (Yale University Press, New Haven, 2007); Thirion, Jacques, Le Mobilier du Moyen Age et de la Renaissance en France (Editions Faton, Dijon, 1998).
Uses
Owing to the low-voltage lighting of the top section, this cabinet is ideal for showcasing a collection. The middle section and lower pot board (with shelf) provide additional display space.