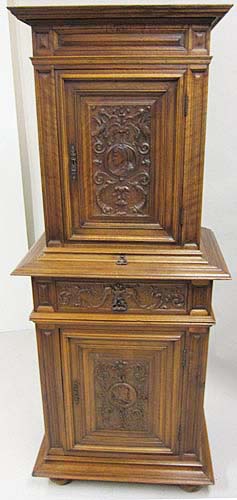 Price $1,295
Item 1016 - Width 26½, Height 65, Depth 17½ (in inches)
Wood - Walnut
Date - Circa 1880
Country of Origin - France
Additional photos below text
This solid walnut cabinet is comprised of two pieces, a top and bottom, each with a one-door cabinet having its own key. The bottom portion contains a drawer and the top portion has a pull-out wood surface for writing.
Both doors are hand-carved, bas relief, with the top door having a female head in profile and the bottom door a male head. The female likeness is framed at the top by two storks, traditional symbols of faithfulness and happiness but also the symbol of the Alsace region of the country. This leads us to think that the cabinet may have been a tribute to two individuals in particular, perhaps commemorating the marriage of a young woman from Strasbourg. The convention of rendering faces in profile dates back to Renaissance ceramics (e.g., Urbinoware) and medieval coins following the tradition of showing emperors' images in profile on the coins of ancient Rome.
The intricate carving on the doors and drawer reflect traditional foliage scrolls and arabesques drawn from engravings of the period such as those of Jean Bérain illustrating designs for royal entertainment at Versailles. Particularly intriguing are the dolphins framing the door pull, each of which holds the central vase above the drawer-pull in its mouth.
The carving on this cabinet is extremely fine in detail and execution, displaying a level of artistry that is rarely encountered. For example, the intricacy of the hair and decorative headgear of the female figure is quite detailed. Even the basic architectural elements, such as the "sand pile" motifs above the top door are comprised of multiple layers rather than the customary one. The relatively small size of this cabinet coupled with the finely detailed carving, of the portraits as well as the architectural elements, lend an intimacy and tenderness rarely seen in Renaissance style objects.
For other items with Renaissance style portraits, see Chest 3213.
A small repair can be seen on the moulding at the top of the cabinet, as shown in the photo of this detail, below.
Reference
Boccador, Jacqueline, Le Mobilier Français du Moyen Age à la Renaissance, Editions d'Art Monelle Hayot (Saint-Just-en-Chaussée, 1988); Thirion, Jacques, Le Mobilier du Moyen Age et de la Renaissance en France (Editions Faton, Dijon, 1998);
Uses
Owing to its diminutive size, the cabinet is an ideal occasional piece in a living room, dining room, foyer, or at the top of a staircase.