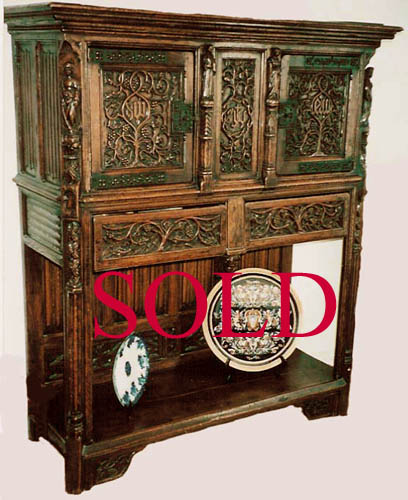 Item 9204 - Width 59, Height 68, Depth 21 (in inches)
Wood - Oak
Date - Circa 1850
Country of Origin - France
Additional photos below text
This solid oak piece in the classic dressoir style, with two drawers and two doors in the top and an open display area or "pot-board" on the bottom, dates from the 19th century revival of interest in the Gothic period. However, its origins lie in the late 15th century when such a piece was used to store and display dishes and silver, as depicted in contemporary illuminated manuscripts.
The vegetal and grape motifs involve intricate carving on the front panels and drawers and harmonize with the metal, sliding-bolt door-closures simulating bunches of grapes. The side panels are the classic medieval plis-de serviette, displayed in both vertical and the highly unusual horizontal modes.
On each side of the central panel and at the far sides are figures in flowing robes carved into niches, perhaps a man and a woman, making this piece a dressoir de mariage for a couple whose estate includes a vineyard. In the center, below the drawers, is a delicately sculpted face of a young boy — perhaps the actual or hoped-for offspring of the marriage or an angel, which was also characteristic of Gothic furniture.
This is an especially beautiful example of Gothic Revival furniture-making in France, showing the maker's affection for the earlier period and his faithful adherence to its key stylistic elements. Most likely it was commissioned from a master ébeniste as a faithful copy of a 15th century piece on display at a chateau or museum.
This piece came to us from a French scholar's collection of and reverence for painstakingly faithful 19th century reproductions of medieval originals.
For another piece using the vine or wine motif, see coffret 9460.
Reference
Ader-Tajan, Collection Bruno Perrier Haute Epoque (Catalog for Sale at Auction on April 6, 1992 at the Hôtel Drouot, Paris); Boccador, Jacqueline, Le Mobilier Français du Moyen Age à la Renaissance (Editions d'Art Monelle Hayot, Saint-Just-en-Chaussée, 1988); Thirion, Jacques, Le Mobilier du Moyen Age et de la Renaissance en France (Editions Faton, Dijon, 1998); Viollet-le-Duc, Eugène, Le Mobilier Médiéval (Georges Bernage, editor) (Editions Heimdal, 2003)
Uses
Ideally suited to store dishes in a dining room, this piece is highly versatile and could serve well in other environments such as a library or an office.