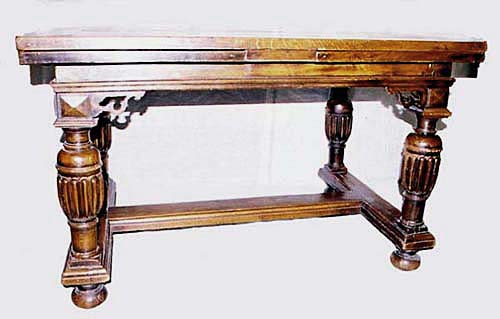 Price $2,295
Item 9451 - Width 51, Height 31½, Depth 35¼ (in inches)
Wood - Oak
Date - Circa 1870
Country of Origin - France
Additional photos below text
Made of solid French oak, this table dates from the 19th century and combines a pleasing classicism focusing on the pots à feu or "cup and cover" motifs of the rising baluster legs with an overall Gothic flavor or even Country French flavor. Its sturdy construction is based on an "H" stretcher supported by bun feet. Although not a refectory table, this central stretcher is reminiscent of that simple yet practical design in its 19th century guise as a draw leaf table.
The top consists of three pieces, such that the end pieces pull out and add to the length of the table in order to seat as many as 12 people. When not extended, the leaves slide under the top and are stored out of sight.
The variation in color in the photos below reflects the difficulty in photographing the table using a flash while trying to limit reflection and glare. The true color is closest to the photos immediately below.
Reference
Boussel, Patrice, Les Styles du Moyen Age à Louis XIV (Baschet et Cie, Paris, 1979)
Uses
This table works well in a formal dining room or a casual kitchen.