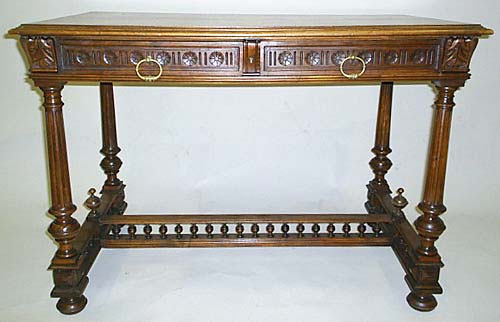 Price $1,363
Item 4103 - Width 43½; Height 30½; Depth 25½ (in inches)
Wood - Walnut
Date - Circa 1890
Country of Origin - France
Additional photos below text
This Renaissance style side table or desk is perfect for limited spaces due to its size. The solid walnut top sits above two drawers with original brass pulls. The top is supported by 8 corbels carved with acanthus leaves. The fronts of the drawers have incised flowers carved into them, a theme that is repeated around the frieze under the top. The top is supported by four turned and fluted legs that terminate in small bun feet as they connect with the two side stretchers, which connect with the center stretcher. These stretchers are composed of a top and bottom rail that are joined with multiple turnings in the true Henry II style. At the juncture of the stretchers, on the top side, are two small finials (toupies).
We would estimate the age of the table to be late nineteenth century or turn of the 20th century. As with all our furniture, it is robust in condition, and should not just be seen as merely decorative, but ready for daily use as a desk. Henri II or Renaissance Revival styles are by their design structurally sound, and blend in beautifully with gothic, and Louis XIII or XIV styles, resulting in a country house, chateau or castle look, wherever they may be used.
There is a deep scratch near the perimeter of the top at the bottom left of the photo of the table top, shown below, and in more detail at the bottom of this page.
Reference
Boccador, Jacqueline, Le Mobilier Français du Moyen Age à la Renaissance (Editions d'Art Monelle Hayot, Saint-Just-en-Chaussée, 1988); Boussel, Patrice, Les Styles du Moyen Age à Louis XIV (Baschet et Cie, Paris, 1979); Thirion, Jacques, Le Mobilier du Moyen Age et de la Renaissance en France (Editions Faton, Dijon, 1998).
Uses
Because of the breadth of the table compared to its depth, in addition to its traditional purpose as a writing table, it could also function as a console table in an entryway or behind a sofa. Owing to its size, it could also serve as a table between two beds or as a stand-alone table at bedside now that mattresses are taller and therefore closer to the height of this table.