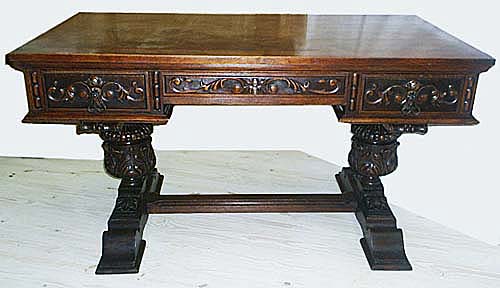 Price $2,388
Item 3303 - Width 59, Height 32 , Depth 33 (in inches)
Wood - Oak
Date - Circa 1890
Country of Origin - France
Additional photos below text
This desk in Renaissance or Henri II style presents a pleasing combination of decorative motifs in an overall bureau-plat design characterized by a large table top with drawers in the frieze. Mounted on an unadorned "H"-shaped pedestal, the vertical supports are heavily carved and dominated by bulbous turnings known as "cup and cover" or in French as pots à feu referring to a rounded cooking vessel with a top (and not to be confused with the iconic French beef stew known as pot-au-feu).
Decorative elements, such as the carved acanthus leaves curling up the sides of the cups and scrolled atop the horizontals topping the feet, place the desk firmly in the 19th century revival of interest in Renaissance design (also known as Henri II). Gracefully curving floral motifs complete the frieze with a blossom, possibly a sunflower in the middle of each side.
Considering that the tops of desks were traditionally covered with cloth or bure (giving rise to terms such as "bureau" and "bureaucrats"), it is surprising to find a solid oak top in a parquet design of such richness and color. Because the top had several uneven patches, it has been refinished in accordance with 19th century techniques and has yielded richer color and a more pleasing result. The desk has three drawers, the two side drawers having decorative metal drawer pulls in the shape of stylized fleurs-de-lys.
Reference
Boussel, Patrice, Les Styles du Moyen Age à Louis XIV (Baschet et Cie, Paris, 1979); Rousseau, Francis, Le Grand Livre des Meubles (Copyright Studio, Paris, 1999); Wilk, Christopher, Western Furniture 1350 to the Present Day (Cross River Press, New York, 1996)
Uses
Overall, the desk gives a sense of stability as well as permanence and, owing to its solid oak construction, a durable focal point for an elegant home or business office.