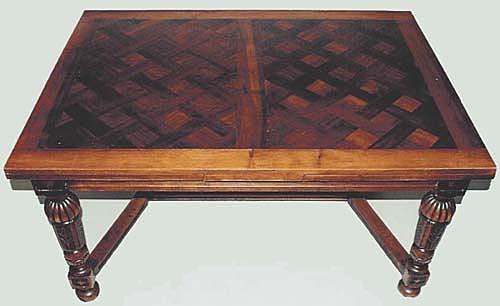 Price $4,985
Item 9211 - Width 58¾, Height 29¾, Depth 43¼ (in inches) Length with extensions is 105¾
Wood - Walnut
Date - Circa 1910
Country of Origin - France
Additional photos below text
While antique oak tables with parquet tops are fairly common in France, it is rare to find a such a table in walnut and even rarer to find it with its extensions intact and still paired with its six matching leather-upholstered chairs. This set, dating most likely from the early 20th century, reflects the stylistic motifs and construction of earlier eras including the transition from Louis XIII to Louis XIV.
The table features a solid parquet top for both the central section and the extensions at either end. The table's origins in Provence are reflected in the whimsical flower carvings on the four legs of the table as well as the circular and diamond patterns on the chairs. Both the table and the chairs have graceful, rounded ballustres or turnings. The chairs have recently been re-upholstered in leather, faithful to their original look. They are reminiscent of chairs on display at the Fondation Angladon in Avignon.
Please note that the difficulty of photographing items of this size can result in color variations. We believe that the truest representation of the color of this table is reflected in the central panels shown in the photograph immediately below.
Reference
Gairaud, Yves, Le Guidargus du Meuble Régional (Les Editions de l'Amateur, Paris, 1990); Rousseau, Francis, Le Grand Livre des Meubles (Copyright Studio, Paris, 1999)
Uses
Sufficiently elegant to fill a formal dining room or casual enough for a country-style kitchen, the table extends to 105 inches and can seat as many as 12 people (although only six chairs are included).