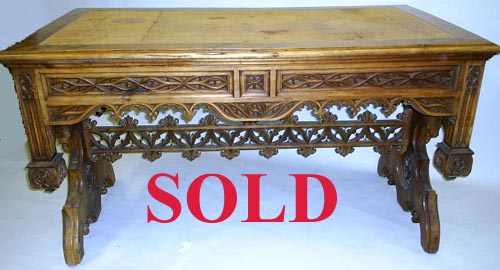 Item 3229 - Width 57, Height 31, Depth 32 (in inches)
Wood - Walnut
Date - Circa 1890
Country of Origin - France
Additional photos below text
This solid walnut desk offers a feast of Gothic design in a practical and useful piece of furniture. Based on tracery or fenestrage with its roots in the Flamboyant Style of Gothic architectural design, this desk is a feast for the eyes while offering the convenience and practicality of a large horizontal surface and two spacious drawers. Unlike most pieces of furniture made in 19th century France at the height of the Gothic Revival movement, this desk is light in color — displaying the richness and depth of the walnut rather than stained darkly and obscuring the beauty of the wood. Its overall structure is that of a classic table-bureau from the 17th century overlaid with Gothic design elements. The leather top on the desk is original and so we have not replaced it, even though it has discolorations, in order to preserve the value of the piece.
Reference
Boccador, Jacqueline, Le Mobilier Français du Moyen Age à la Renaissance (Editions d'Art Monelle Hayot, Saint-Just-en-Chaussée, 1988); ; Boussel, Patrice, Les Styles du Moyen Age à Louis XIV (Baschet et Cie, Paris, 1979); Rousseau, Francis, Le Grand Livre des Meubles (Copyright Studio, Paris, 1999)
Uses
This desk is ideal for use in a home office and would fit well in a library setting, even doubling as a library table.