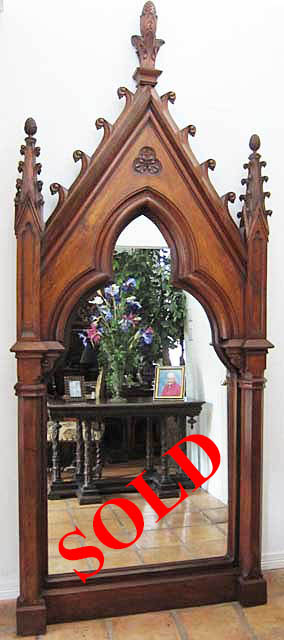 Item 5128 - Width 46½, Height 109, Depth 5 (in inches)
Wood - Oak
Date - Circa 1880 (frame)
Country of Origin - France
Additional photos below text
This massive Gothic style mirror began life in Brittany as a surround or frame for a door. We are not sure what building it came from, but the moment we spied it, we envisioned transforming it into a fabulous mirror.
Our conversion of the door frame was complex, involving: reducing the overall height to the more manageable, yet arresting, height of 109"; the creation of a flat plane allowing the glass to fit flush with the massive oak columns that form the sides; the creation of a frame allowing the glass to be properly mounted; and the installation of custom-made 1/4" mirror glass.
The solidity of the original oak and the additional work we accomplished make the mirror extremely heavy, and to move it has required three people. It has been photographed leaning backward slightly against a wall. Therefore, when we say massive, we mean in terms both of size and weight.
This is a piece that calls attention to itself as few other Gothic items do in today's marketplace. The frame, in solid oak, medium in color and richly grained, was built to last. As architectural pieces go, it is somewhat austere. This is not the Flamboyant Gothic of elaborate yet delicate tracery (fenestrage) boasting ogive arches topped by intricately carved fleurs-de-lys or flames. The mirror reflects a more basic vocabulary of Gothic (and Renaissance) ornament.
The overall structure is based on a pointed arch, echoed in the three-lobed border for the mirror, and topped by an elaborate finial that is mimicked on either side by smaller finials crowning spires. The pointed arch and the two spires are crocketed, meaning that four little hooks, developed from stylized and curled acanthus leaves, protrude from the basic lines of each. The spires on either side are especially lovely in their architectural detail, including the angular mouldings that form a crown over the lancet arches connecting them to the lower part of the frame. The base of the frame is sturdy and reinforced to support the weight of the mirror.
All three finials, which are removable for shipping, are intriguing in that they represent a pine-cone, a symbol dating back to ancient times when the Greek god of wine and agriculture, Dionysus, was depicted carrying a staff topped by a pine-cone as a symbol of fertility. Not to be outdone, the ancient Romans had a famous fountain, next to the temple of Isis, in the shape of a pine-cone and from whose elaborate scales water spewed forth. It now graces a courtyard at the Vatican (the Cortile della Pigna). As an ornamental design, we are more accustomed to seeing the pine-cone on Renaissance style items inspired by Italian architecture rather than on Gothic pieces from northern climes. So its incorporation in this piece presents an enigma. Since the modern name Dennis is derived from Dionysus, it may be that this door frame came from a 19th century monastery dedicated to Saint-Dénis (also the patron saint of Paris) or a stately home of someone whose first or last name was Dénis.
There is vegetation as a theme, although we are not sure what it is. In the center of the top portion of the mirror is a trefoil with a central bloom from which leaves extend. Similarly, the pine-cone atop the arch and the two atop the spires are framed by leaves at their base but these leaves are stubbier and less articulated than the more traditional acanthus leaf found at the base of similar ornamental shapes such as the pineapple and the artichoke. Again, we suspect some metaphorical connection with the place where the door frame formerly resided, but we can only speculate on this symbolism.
Reference
Boccador, Jacqueline, Le Mobilier Français du Moyen Age à la Renaissance (Editions d'Art Monelle Hayot, Saint-Just-en-Chaussée, 1988); Thirion, Jacques, Le Mobilier du Moyen Age et de la Renaissance en France (Editions Faton, Dijon, 1998); Viollet-le-Duc, Eugène, Le Mobilier Médiéval (Georges Bernage, editor) (Editions Heimdal, 2003).
Uses
It is hard to imagine a more ideal mirror for a vast entryway or foyer of a house. But its functionality as a mirror would not rule out use in a bedroom, a hotel lobby, or any other place where glimpsing oneself on such a large scale would be delightful. The mirror can have various mounting hooks or fastenings, to suit a client's desire for use at different potential locations (e.g., in a corner, or entry or the center of a decorative wall), but these we will leave to the buyer's discretion. The mirror is far too heavy to hang off the floor, hence it is a floor-length mirror, and comes with no hanging wires or cables.