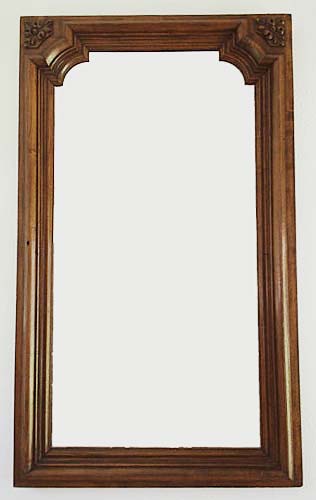 Price $987
Item 9220 - Width 35, Height 60, Depth 3 (in inches)
Wood - Walnut
Date - Circa 1910
Country of Origin - France
Additional photos below text
This large, rectangular mirror began life as the door to an armoire or cabinet, as we have surmised from the keyhole on the left vertical member of the frame. But separated from its former function it has taken on an independent life as a magnificent hanging mirror. Based on the construction of solid, old-growth walnut and the Renaissance stylistic elements, we would classify this mirror as Henri II in style and spirit.
The glass and silvering are in excellent condition. The mirror's edges are beveled, signaling that it is, at the earliest, of late 19th century construction.
Reference
Rousseau, Francis, Le Grand Livre des Meubles (Copyright Studio, Paris, 1999); Wilk, Christopher, Western Furniture 1350 to the Present Day (Cross River Press, New York, 1996)
Uses
Anywhere that one would place a large mirror, this one would command attention, including in an entryway or foyer, above a chest, over a fireplace, or simply all by itself.