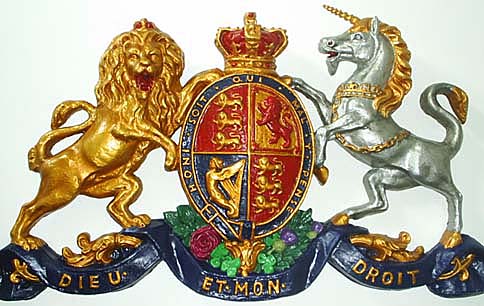 Price $3,495
Item 3217 - Width 62, Height 36, Depth up to 8 (in inches)
Material - Fiberglass
Date - Circa 2002
Country of Origin - United Kingdom
Additional photos below text
While this rendering of the British royal coat of arms is not itself an antique, it symbolizes a heritage dating back to the time of King Richard I, the Lionhearted. A central shield, divided into four quarters, embodies the symbols of England (3 lions), in the first and fourth quarters, Scotland (lion rampant) and Northern Ireland (harp). Bordering the shield is a banner bearing the motto of the Order of the Garter established by King Edward III, Honi soit qui mal y pense (shamed be he who thinks ill of it). Below the shield in the compartment are depictions of various flora symbolic of the United Kingdom: the Union rose, the shamrock, and the thistle, all depicted on the same stem. The fleurs de lis at either end of the banner are symbolic of the unsuccessful claim to the French throne, through his mother, made by King Edward III. Supporting the shield on the left side is a large crowned lion, symbolizing England, and on the right is a unicorn, symbolizing Scotland. Below the lion, unicorn and shield is a banner with the motto of the British monarchy, Dieu et mon droit (God and my right).
Although it looks very old and hand-carved as if it were crafted of wood, this coat of arms was made recently from fiberglass and painted by hand. A special glaze gives it the patina of age. We found it quite by accident in England and thought it would be ideal for a collector of antiques or heraldic items and enthusiasts of past eras such as the Tudor period. It may be hung using a hook mounted on the back but is very heavy and will require the efforts of at least two strong men.
Reference
Neubecker, Ottfried, Le Grand Livre de L'Héraldique, (Bordas, Paris, 1997).
Uses
This decorative English coat of arms would enjoy pride of place over an entryway, above a fireplace, or in any location where attention is commanded. But most of all, it would enhance any home or business dedicated to Anglophiles, whether a pub or a country home.