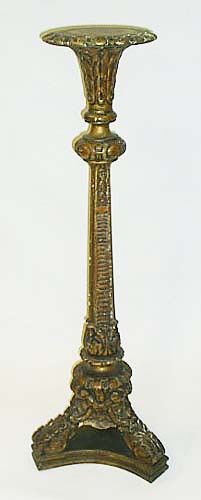 Price $987
Item 3315 - Width 14 at base, 10 at top; height 43 (in inches)
Wood - gilt-wood
Date - Circa 1870
Country of Origin - France
Additional photos below text
This candelabrum or plant stand is a bit outside our usual focus from medieval times to Louis XIII, being more in the Louis XIV mode. But its classic symmetry, exquisite carving and lovely patina caught our eye, and so here it is.
From a design originally used in Italy to keep candelabra stable in order to minimize conflagrations when they toppled over, this stand has a triangular pedestal as a base. Continuing the theme, the central column is also triangular in shape below a circular top. Since candelabra were commonly used in churches, this triangular design with a round top reflected the notion of the Trinity or God the Three in One.
The acanthus leaf predominates as the chief design element used in this piece, taking various forms including scrolled leaves forming the base, a bud out of which the central column rises, and a highly stylized treatment as the horn-shaped support for the top, circular platform.
Balancing top and bottom are circular bands with oval-shaped patterns articulating the top of the base and the bottom of the platform portion on which the candle would have rested.
This stand is gold-leafed but with a finish that has aged and resulted in a pleasing patina with nicks here and there exposing the gesso underneath.
Reference
Antiquités et Objets D'Art 10, Le Mobilier Italien (Editions Fabri, Paris, 1990); Quette, Anne-Marie, Le Mobilier Français Louis XIII et Louis XIV (Editions Massin, Paris, 1996); Rousseau, Francis, Le Grand Livre des Meubles (Copyright Studio, Paris, 1999).
Uses
This graceful stand is ideal for holding anything from a plant to ceramics but remains attractive for a large candle.