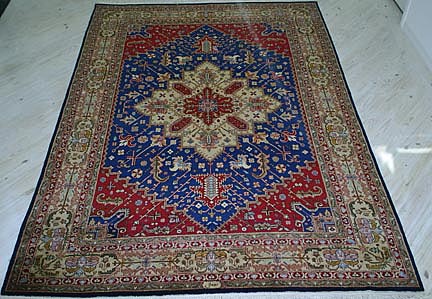 Price $995
Item 9464 - 8 feet by 11 feet (96 inches by 132 inches)
Material - Hand-knotted wool on a cotton base
Date - Circa 1970
Country of Origin - Iran
Additional photos below text
This hand-made rug in the classic Persian Heriz pattern was woven in Romania but reproduces faithfully the turquoise and beige colors of the finest antique rugs from the Heriz region of Iran.
Made from lustrous wool at a time before Indian and Chinese manufacturers began turning out their own inferior versions of Iranian rugs, Romanian rugs such as this were considered to be the top of the line at a time when the U.S. embargo on Iranian rugs made genuine Heriz carpets off limits to American collectors.
Reference
Aschenbrenner, Erich, Oriental Rugs Volume 2 - Persian (Antique Collectors' Club, Woodbridge, Suffolk, 1993); Ford, P.R.J., Oriental Carpet Design (Thames & Hudson, London, 1993)
Uses
With its striking combination of colors and refinement of design, this rug would be a pleasing addition to any room.