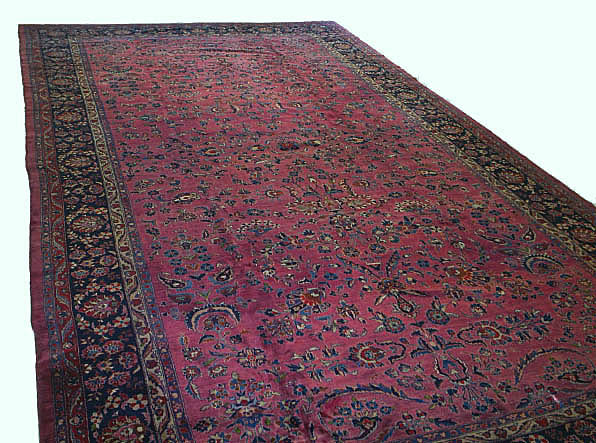 Price $10,995
Item 9463 - 11'4" by 19'4" (Palace Size)
Material - Hand-knotted wool on a cotton base
Date - Circa 1920
Country of Origin - Iran
Additional photos below text
We recently opened a new studio and decided it was the perfect space to unroll and appreciate this remarkable carpet while taking some better photographs designed to highlight its beauty and condition.
The photo, above, and the others at the end of this narrative, are views from different angles to highlight the richness of the rug and to illustrate the contrast when a pool of light focuses on the lower left-hand corner.
With its rich, dark rose-colored field and navy blue borders, this palace size Sarouk is a classic example of the Persian weaver's art of the 19th century in a style destined primarily for export (also known as the American Sarouk).
Design elements include herati, floral patterns and sweeping vine motifs. Known for their durability and lustrous wool, Sarouks of this period, size, rich coloration and excellent condition are highly prized.
The rug has been cleaned. Its only repair is to an edge binding.
Due to its immense size, photographing it has been difficult and it should be seen in person to be appreciated.
An indication of the high esteem this type of rug enjoys is evidenced by the presence of a virtual twin in the second-floor main sitting room of La Casa Grande or main house of San Simeon (also known as the Hearst Castle).
Reference
Aschenbrenner, Erich, >Oriental Rugs Volume 2 Persian (Antique Collectors Club, Woodbridge, 1981); Aidala, Thomas R., Hearst Castle-San Simeon (Harrison House, New York, 1984)
Uses
The rug commands a large space and with its bright hues is ideal to enhance the elegance of rooms filled with furniture ranging in style from antique to contemporary.