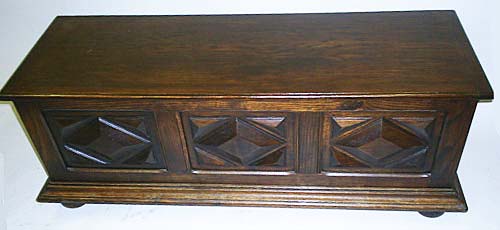 Price $1,495
Item 4152 - Width 53; Height 19½; Depth 18¼ (in inches)
Wood - Oak
Date - Circa 1900
Country of Origin - France
Additional photos below text
This solid oak chest is an excellent example of how the Louis XIII style, that is named after this 16th century French king, continued to be the inspiration for furniture, even into the early 20th century, the estimated time of its construction. In the English country houses, European castles and French chateaux, Louis XIII combines well with the renaissance, Henri II and Gothic styles that were and are so popular because of their solidity, artistry, scale and that they recall a time remembered for chivalry, religion, wealth and manners. All of these elements united in the décor of these living spaces to engender in their owners a sense of their past relatives' lives, as well as a connection with those times and generations.
In Louis' time the Catholic church played a major role in daily life including providing churches, monasteries, nunneries and the varied physical buildings that the church needed for administration and for its spiritual mission. In France, between 1050 and 1350, eighty cathedrals, 500 large churches and several thousand smaller churches were built, and in the financially better off locations, Gothic was the preferred style. At the end of this flurry of religious building, there was an average of one church per two hundred residents. And because the most common and durable building material was stone, many of these structures were standing in the reign of Louis XIII, and were a part of the daily existence and visual experience of people.
The eight-sided Maltese cross, that in its stylized form decorates the front and ends of this chest, was used by the Knights of Malta and was a symbol of the Christian forces of the crusades. Each of the eight points symbolized the eight points of courage. So the symbolism of valor, loyalty and charity among others, displayed by this solid chest, even in the 20th century was admired and became the focus of designs for furniture craftsmen.
In addition to the three Maltese crosses on the front and one each on the side panels, the architectural molding at the base of the chest and the two bun feet in the front provides a feeling of strength and solidity to our surroundings that is as appreciated today as it was in medieval times. The chest, also known as a coffre in French and coffer in English, is in excellent condition, displaying no splits, missing pieces, wood damage or hardware. It has been cleaned and carefully waxed with the exceptional French paste wax, Pate DuGay, and is ready to bring its warmth and sense of strength and connection to your home.
Reference
Gairaud, Yves, Le Guidargus du Meuble Régional (Les Editions de l'Amateur, Paris, 1990); Quette, Anne-Marie, Le Mobilier Français Louis XIII et Louis XIV (Editions Massin, Paris, 1996); Rousseau, Francis, Le Grand Livre des Meubles (Copyright Studio, Paris, 1999).
Uses
A chest can make an excellent low table in front of a sofa, especially with the addition of a glass top; low storage at the foot of a bed; a distinctive base for a flat panel television. A chest will set a mood and style for any home in a hall with the appropriate seating at either end, or by itself with lamps or candlesticks at each end.