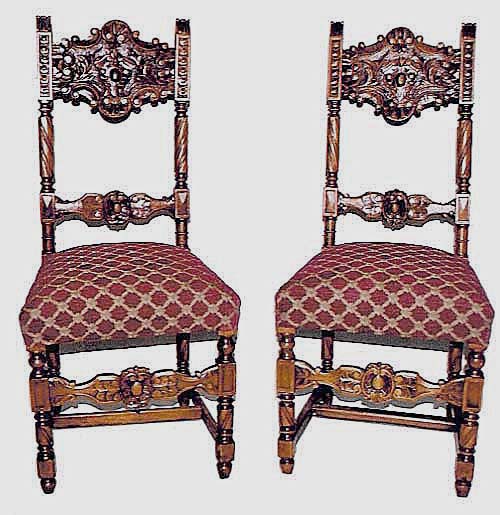 Price $1,347
Item 3110 - Width 19, Height 41½, Depth 17 (in inches)
Wood - Walnut
Date - Circa 1900
Country of Origin - France
Additional photos below text
These two 19th century chairs faithfully evoke their Renaissance ancestry of intricate carving in the two horizontal rails making up the back and the single rail between the front legs. In this style, also known as Henri II, there is a rich interplay of carved vegetation and scrollwork, around a central oval or cabochon, bringing out the beauty of the old-growth walnut. The overall structure is perpendicular and rectilinear, including columns with diagonal fluting borrowed from the vocabulary of architectural design.
On our recent visit to the Doge's Palace in Venice we saw numerous similar chairs, reminding us of the Italian influences on France when Catherine De' Medici married the future King Henri II and brought her Italian craftsmen with her to France. In keeping with Renaissance tastes, the back of the chair is high, intended to lend greater authority to the person sitting in it. But unlike their 16th century predecessors, a set of which was sold at auction in Paris in the fall of 2003, these chairs are upholstered for added comfort and recently redone in a red and beige patterned fabric similar to that used in the Renaissance for the detached cushions used to make contemporary chairs more comfortable. These chairs are sturdy and stable.
Reference
Etude Tajan, Haute Epoque (Catalogue for Sale at Auction on September 24, 2003 at the Hôtel Drouot, Paris); Rousseau, Francis, Le Grand Livre des Meubles (Copyright Studio, Paris, 1999)
Uses
These chairs would work well in an intimate dining room or kitchen, or in a library or study with a desk or library table. They would also be ideal for an entryway or hallway on either side of a chest or console table.