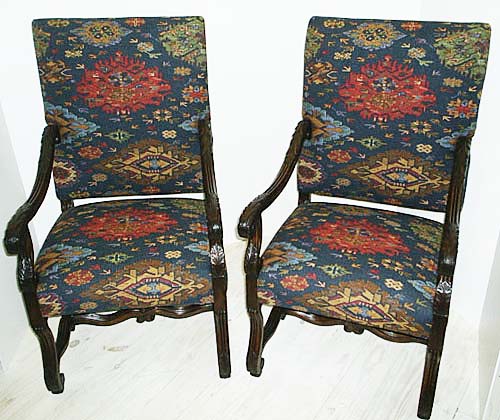 Price $3,875
Item 3222A - Width 25, Height 45, Depth 26 (in inches)
Wood - Walnut
Date - Circa 1890
Country of Origin - France
Additional photos below text
It is unusual to find a pair of matching Louis XIV style chairs in such fine condition in terms of sturdiness and stability, and even rarer to find them made of burnished walnut rather than the gilt beech common in Louis XIV's day. The chairs have been recently refurbished with new springs and padding as well as reupholstered in a fabric from Ralph Lauren featuring designs (guls) from oriental rugs on a lush blue field to reflect the emphasis on richly woven fabrics at the time of Louis XIV.
The wooden frame of these chairs is made of solid walnut and exquisitely hand carved, exhibiting such classic stylistic motifs as the scrolled acanthus leaf at the end of the armrest, extended acanthus leaves where the arm meets the back and below the armrest, as well as the os de mouton or "sheep's bone" configuration of the stretcher.
In contrast to Medieval and Renaissance styles, Louis XIV's reign gave rise to a breakthrough in chair construction, with the back becoming higher and the seat becoming larger to accommodate the more ample seating space required by the fashions of his day. This chair has a straight back rather than a curved one, more typical of an earlier era of Louis XIV's reign when the straight back was commonly paired with the os de mouton base.
At some point in the past, these chairs suffered an infestation of insects leaving the characteristic tiny holes so common to furniture made of old-growth walnut (the bugs had good taste too when it came to fine wood). See photos below. There is no indication of any active infestation.
Reference
Quette, Anne-Marie, Le Mobilier Français Louis XIII et Louis XIV (Editions Massin, Paris, 1996); Rousseau, Francis, Le Grand Livre des Meubles (Copyright Studio, Paris, 1999); Mack, Rosamund, Oriental Carpets in Italian Renaissance Painting, Magazine Antiques (December, 2004)
Uses
These chairs command attention in a living room, study, bedroom or even an office. Comfortable and gracious, they complement many styles of furniture.