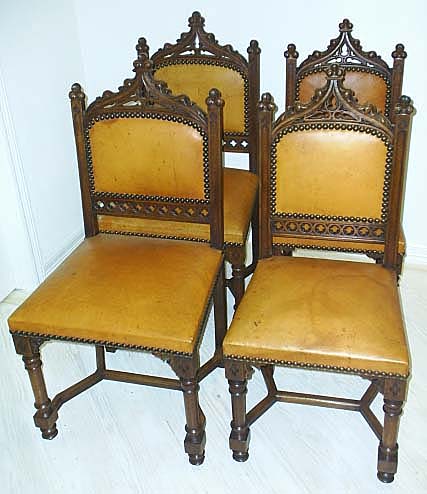 Price $1,995
Item 9221 - Width 20, Height 41¼, Depth 18 (in inches)
Wood - Walnut
Date - Circa 1880
Country of Origin - France
Additional photos below text
These four antique chairs are hand-crafted of solid walnut and date from the late 19th when the revival of interest in gothic stylistic elements was at its zenith. From the top, in the shape of a graceful ogive, to the bottom, with its indented stretcher, each chair is both a triumph of symmetry and a balance of distinct architectural elements. A particularly French touch is lent by the stylized, three-dimensional fleurs-de-lys crowning the side members and central arch of the back of each chair. The leather is a particularly pleasing tawny color whose neutrality blends with many color schemes. Two of the chairs are slightly wider than the other two, and could be placed at the head and foot of a dining table. The leather has a number of marks on it and, while expected with age, may benefit from expert cleaning or replacement.
The most representative color, given the challenges of photographing dark furniture, is in the image at the top of this page.
Reference
Thirion, Jacques, Le Mobilier du Moyen Age et de la Renaissance en France (Editions Faton, Dijon, 1998); Viollet-le-Duc, Eugène, Le Mobilier Médiéval (Georges Bernage, editor) (Editions Heimdal, 2003)
Uses
As a set, the four chairs are ideal for a kitchen or dining room.