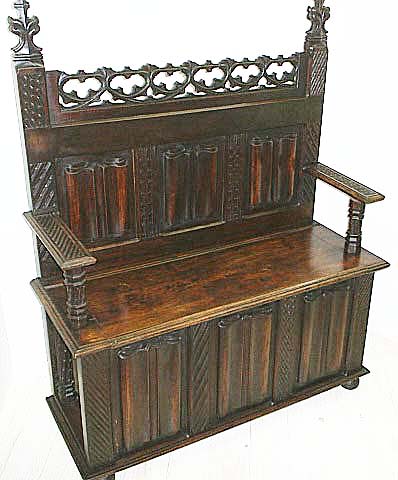 Price $2,787
Item 4121 - Width 43, Height 53, Depth 16¾ (in inches)
Wood - Walnut
Date - Circa 1890
Country of Origin - France
Additional photos below text
Solid walnut benches in a Gothic design, like most French walnut Gothic pieces, are rare these days and so this piece was of special interest to us. The condition is outstanding, nothing missing, or even re-glued, and as sturdy as if it had just come out of the creator's workshop.
There are plis de serviette or linenfold panels in the front that are framed by vertical stiles carved in the diagonal manner that recalls the François I pattern of the Gien faience first produced in 1875. Each stile has a slightly different design reflecting the design rule from medieval times, that no two elements could be exactly alike, because only God could create a perfect copy.
On each side end of the seating box or coffer, are also linenfold panels flanked by carved columns in a motif that mimics the vertical stiles of the front. The same style of column is repeated in the supports for each of the arms.
The top of the arms, and portions of the of the vertical back support stiles that surround more linenfold panels, are carved in an overlapping scale motif that displays both creativity and intricacy. The tall side rails (stiles) that frame the back are topped with large scale (almost 6" tall) three-dimensional fleurs-de-lys and provide support and structural integrity for the intricate, pierced fenestrage (resembling cathedral windows), that connect them. This sturdy design is probably the reason none of this fragile carving work is damaged and remains completely intact after all these years.
The walnut seat lifts to allow access for modest storage. It has small bun feet in the front that support the main body.
Reference
Boussel, Patrice, Les Styles du Moyen Age à Louis XIV (Baschet et Cie, Paris, 1979); Thirion, Jacques, Le Mobilier du Moyen Age et de la Renaissance en France (Editions Faton, Dijon, 1998); Viollet-le-Duc, Eugène, Le Mobilier Médiéval (Georges Bernage, editor) (Editions Heimdal, 2003) .
Uses
All in all, this bench is a beautiful and historic complement for an entry hall, living room, or dining room -- including at the end of a wide dining table -- but especially where Gothic design takes pride of place.