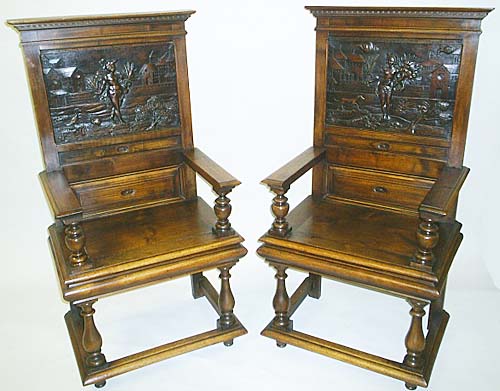 Price $3,495
Item 3310 - Width 25, Height 50, Depth 19 (in inches)
Wood - Walnut
Date - Circa 1880
Country of Origin - France
Additional photos below text
These extraordinary, heavily carved chairs pay tribute to the Roman goddess Ceres (known to the ancient Greeks as Demeter), who was considered responsible for bountiful harvests as a reward to farmers for wise and careful cultivation of the soil. They evoke the Renaissance tradition of harking back to the pagan rituals and deities of ancient Greece and Rome for subject matter depicted on furniture and ceramics.
While classical mythology is rich in stories about the ancient gods and goddesses and their all too human predilections, those swirling around Ceres or Demeter emphasize a kind heart and an interest in the well-being of humans underlying her concern for annual, abundant harvests. Indeed, Ceres carries on in our modern world as the origin of the word "cereal" for breakfast foods made from grain.
What attracted us to these chairs was the intricacy and masterful nature of the hand-carving of the back panels, coupled with the rich color of the old-growth walnut. While a matching pair in overall structure, the two carved panels are distinct and the scenes they represent can be traced directly back to the school of design named for the Château de Fontainebleau in the period termed the Second Renaissance.
As discussed by Jacques Thirion in his masterwork, Mobilier Moyen Age Renaissance en France, furniture designers of this period adored themes drawn from antiquity (the 4 seasons, the 4 elements, the 5 senses, and oodles of deities representing aspects of the physical world such as Ceres). A masterpiece of the Fontainebleau School portraying the 4 seasons was a cabinet included in the Arconati-Visconti gift to the Louvre in the early 20th century. A similar cabinet was part of the sale at auction in April of 1992 of Collection of Bruno Perrier. As Thirion posits, the popularity of these designs was ensured by their dissemination throughout Europe in the form of engravings and etchings published in France as well as Holland. It is in these latter sources that the Ceres legend blurs with other themes such as the four seasons, leading designs similar to these chairs to be considered as representing spring and summer.
All of these items show a female figure in the contrapposto pose of ancient statuary carrying bouquets of flowers (for "spring") and sheaves of wheat (for "summer").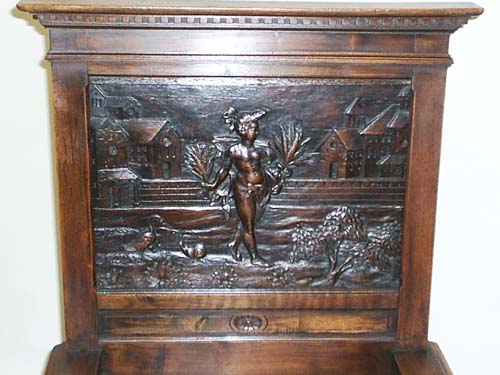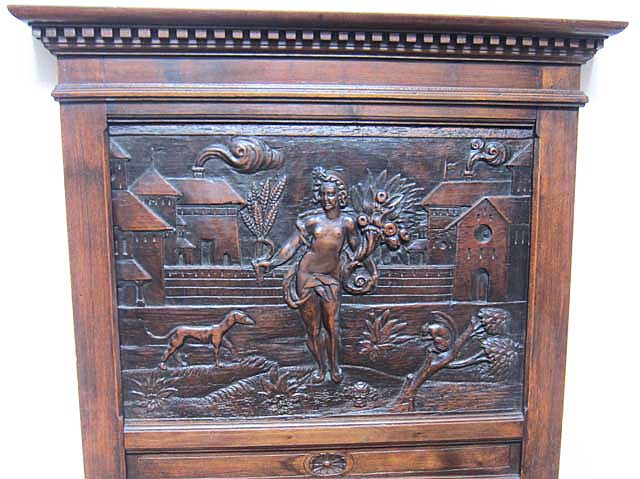 In the case of these two chairs, we were captivated by the anachronistic and highly detailed scenes of the medieval walled villages in the background, complete with smoke curling from chimneys, while the female figure, scantily clad in a time of global cooling, transports grain from the harvest or carries a cornucopia of ripe fruit.