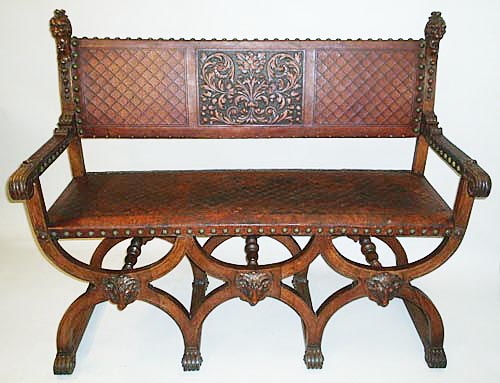 Price $4,995
Item 4130 - Width 60, Height 49, Depth 25 (in inches)
Wood - Walnut
Date - Circa 1890
Country of Origin - France
Additional photos below text
This is one of the most extraordinary benches we've ever found, especially in the Renaissance or Henri II styles combining extraordinarily detailed carved elements with a medieval flair.
The bench is supported with three curved "x's" of solid walnut in the manner of a Savonarola or Dagobert armchair. Below the "x's" are four stretchers stabilizing the shape and displaying eight feet with carved scrolling. At the intersection of the "x's" on the front are carved ram's heads (tête de belier). As the walnut from the "x's" moves upward toward the armrests, the ends of the arms are carved with stylized acanthus leaves. The back supports at the top have the astonishingly carved grotesques (a motif that characterizes things renaissance) and are often seen as gargoyles or chimeras, that are among the best we have ever seen. The carvings are exceptional in their detail and execution as only the best European furniture makers accomplished this level of work.
The leather back is supported by horizontal wooden pieces (unseen) that prevent any sag or deformation of the seat. The center leather of the back is hand-tooled in an arabesque design with scrolls, flutes and the vague suggestion of urns and abundance that grotesque ornamentation embraces.
The seat is similarly constructed so as not to sag and incorporates heavy canvas strapping as well to prevent sagging. The leather of the seat and back are of belting or saddle leather about 1/4" thick, very sturdy and in excellent shape with a wonderful patina.
Reference
Ader-Tajan, Collection Bruno Perrier Haute Epoque (Catalog for Sale at Auction on April 6, 1992 at the Hôtel Drouot, Paris); Boccador, Jacqueline, Le Mobilier Français du Moyen Age à la Renaissance (Editions d'Art Monelle Hayot, Saint-Just-en-Chaussée, 1988)
Uses
This bench would make a bold statement in an entryway or hallway or for seating in a living room or other area where a combination of comfort and artistic excellence are on display.